Multiple Width/Extended Size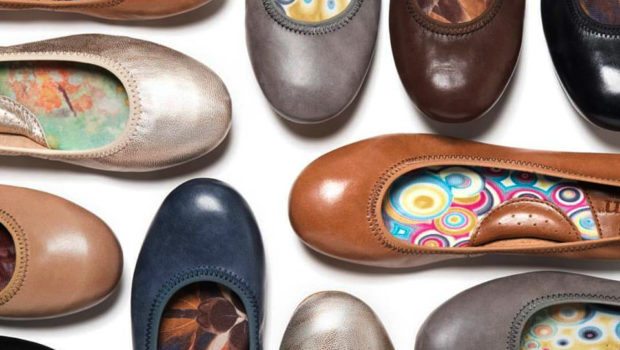 Size 12 Shoes Needn't be Plain Jane [5 Attractive Picks]
All the comfort technologies in the world don't matter a hill of beans when you're trying to squeeze your size 12 foot into a size 11 shoe. It's true (and frustrating), many of the stylish comfort brands top out at size 10 or 11 leaving larger feet to wear lackluster loafers in brown and black. We've received comments and emails expressing the annoyance felt when seeing a beautiful shoe only to find it doesn't come in a size 12. Let's remedy this situation with a look at stylish comfort brands that offer size 12 shoes.
Aerosoles: Known for their flexible outsoles, cushioned insoles and soft uppers, Aerosoles offers footwear up to size 12. Our favorite style at the moment is the Best Girl loafer mule in a vibrant red suede. Too bright for your liking? The Best Girl is equally as stylish in navy, black and camel. Find a pair at Amazon, Aerosoles.com, Zappos, and Shoemall.
Earth shoes: We're not talking the negative heel clown shoes from the early 1970s, rather the updated Earth and Earthies line of chic ballet flats, fashion sneakers and wedge heels. Thankfully the brand understands that even larger feet crave style and comfort; Earth brands carry size 12 shoes with cushioned footbeds and arch support.  One of our favorites from Earth's fall line is the Mara ballet flat with a vamp that crosses the foot below the bunion area–hard to find! Find Earth and Earthies at EarthBrands.com, Zappos, Amazon and Nordstrom.
Rockport Cobb Hill: Similar to Earth brands, Rockport Cobb Hill manages to balance the comfort versus style factor beautifully: enhanced arch support, cushioned footbeds and foot-friendly toe boxes meet with premium leather uppers, fashionable styling and attention to detail (laser cut-outs, ruching). And larger feet won't miss out since most styles size up to 12. The Rockport Cobb Hill Abilene is popular with Zappos customers with 92% of customers awarding it 5 stars for comfort. Available at Zappos, and Shoemall.com. We've found that size 12 sells out quickly, as companies stock fewer shoes in larger sizes–here's a link to all the size 12 Rockport Cobb Hill shoes that Zappos carries.
Born: We're not sure when Born extended their sizing on select styles, but we're glad they picked a customer favorite, the Julianne ballet flat! We admire the Julianne for her moderate arch support, which is difficult to find in a ballet flat (described as "just enough" by a Zappos reviewer). We wondered if the Julianne would bother bunions. After reading through reviews, we gather that if bunions are small to moderate, the Born Julianne may work well. Larger bunions should would fare better in a shoe like the Earth Mara featured above. The size 12 Julianne is available at Bornshoes.com, Zappos, Amazon, and The Walking Company.
Clarks: With so many size 12 shoes  to choose from, you're sure to find a great-fitting, good-looking Clarks shoe for you. Clarks even offers a wide width in some size 12 shoes; other brands only make wides for up to size 10 or 11. The eye-catching Clarks Wynnmere Fox will cushion your feet with the OrthoLite® memory foam footbed with moderate arch support. A one-inch platform provides stability while the velcro ankle strap ensures a secure fit. Find the Wynnmere Fox in black, pebble and beautiful aubergine at Zappos, ClarksUsa.com and Shoes.com.
Other brands that carry size 12 shoes:
We'd love to hear from our size 12 (or more) readers. Which brands work for you? Which brands do you wish carried a true size 12? Feel free to leave a comment and let our community know.