Best Shoes for Bunions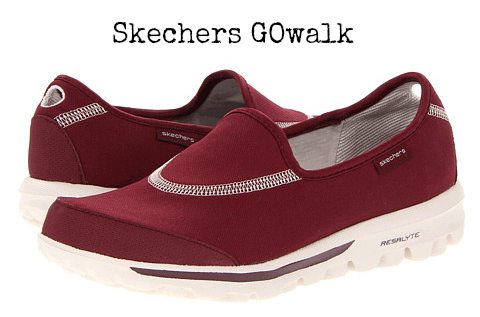 Skechers GOwalk for Slipper-like Strolling
After the Thanksgiving meal, I want to GOsit, GOliedown and GOnap. I'm overdue for my Actemra infusion for my RA and the orthopedic says I need surgery on the big toe in the new year. Even my trusty comfy shoes can't be trusted for all-day comfort until I get my dogs calmed down. I wish I could try a pair of these Skechers Gowalk slip-ons to see what everyone is raving about in online reviews. I have a sneaking suspicion they wouldn't offer the arch support that I need, but the cushioning and soft fabric upper sounds heavenly to my aching bunions, toes, soles.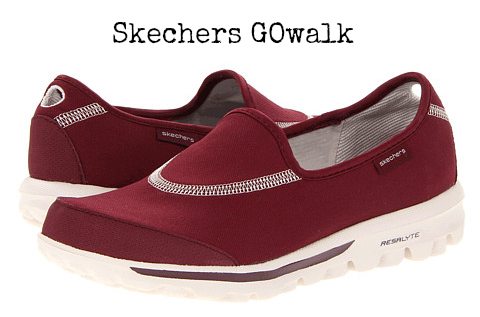 Marshmallow-soft goodness, GOwalks have them. Read a few reviews from happy Shoebuy customers:
I recently purchased a second pair. I have had a problem finding a comfortable walking shoe because of bunion issues. My mother-in-law also has the same problem. I purchased this shoe for her and she is the happiest person around. She told me that they have changed her life. She is active again and able to be involved in activities which warrant walking. I would recommend this shoe to anyone with problem feet.
Another one:
I have a bunion and trouble with shoes that rub on my feet. These are the most comfortable shoes I have ever worn! 
And just one more:
This shoe is so comfortable! I have arthritis in my feet and a neuroma in one of them. Walking in most shoes is uncomfortable. These shoes are like walking on clouds!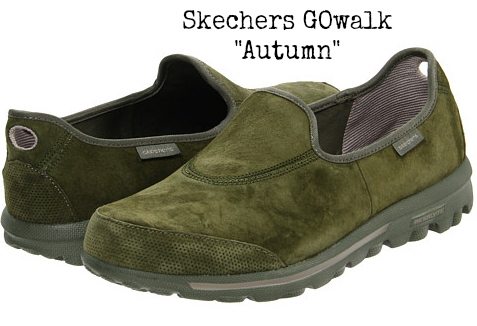 They even come in pretty suede hues for autumn.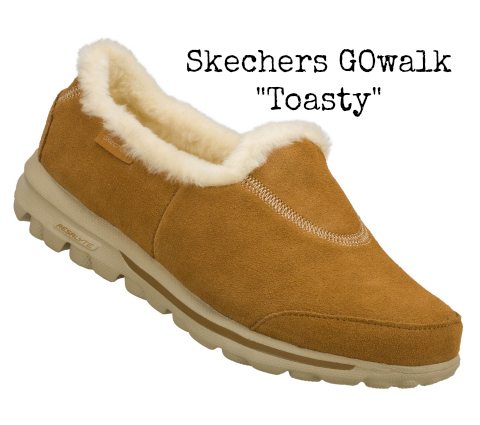 Wool-lined for winter. GOuggs!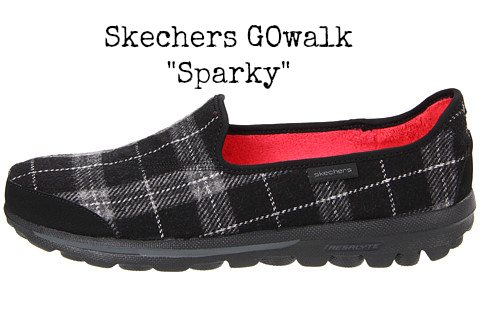 Well-plaid, Skechers, well-plaid.
Here are the tech-specs for the GOwalk with my comments inserted.
Skechers GOwalk elevates the natural walking experience, allowing you to interact with and respond to practically any surface, while offering the additional benefit of real world protection. I'm not sure what real world protection is but I'm pretty sure most shoes have it.
Innovative placement allows the GOimpulse sensors to move together and independently. Good, because I'm a both/and type of girl.
Promotes a natural stride. Not sure how, but ok.

Radically lightweight – No extra material, no extra weight. 

360 Degree Responsive Flexibility – SKECHERS GOwalk flexes and twists. This concerns me because of my hallux rigidus (big-toe arthritis). Flexing is a no-no. Stinks to have multiple foot issues. 
Sockless Walking – Integrated OrthoLite® anti-microbial sockliner helps inhibit odor and prevent slippage. I like socks.
Roomier Forefoot – Extra space to reduce friction. Good for bunions and hammertoes. 
Resalyte™ Midsole – Proprietary lightweight midsole compound provides impact absorption.

Great travel shoes.
Skechers GOwalk styles are available in sizes 5-11 (some styles offer wide widths) from around $43-60 at Skechers.com, Zappos, Amazon, and  Shoebuy.