Comfortable Sandals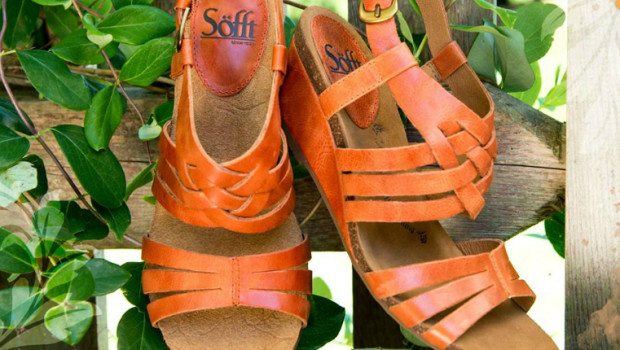 Published on May 12th, 2015 | by Kirsten Borrink
1
Sofft Vali Review by Tracy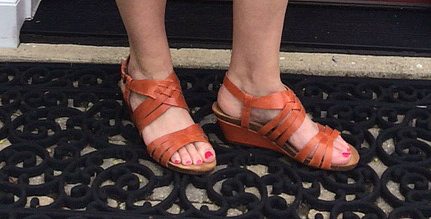 I was so excited when Kirsten asked me to give a pair of Sofft sandals a tryout!  I love shoes, but being a size 11, plantar fasciitis sufferer and all around busy mom, I tend to always wear the same shoes over and over again, or worse, purchase a shoe for one time wear!
The Sofft Vali sandal (I chose the orange poppy color) may be the new "go to" this summer.  The wedge heel height was just perfect and the leather couldn't be more comfortable.  I really gave this shoe a run for its  money when I chose it to be the lone shoe for a work weekend away in Tampa at a board meeting.  Yes, I was pushing the envelope not knowing what the heat and busy weekend would bring, but I believe we have a winner!
The cushioned foot bed is fabulous.  Not one problem with comfort walking through the airport security, baggage claim and shuttle services.  The Tampa heat could have allowed for some uncomfortable feet swelling, but the leather on these sandals never made me feel like my foot was in a vice.
If I had to share one negative, it would be that at times I felt the heel bed was a bit narrow – catching my heal a bit off the pillowy cushion.  That could be my gate, or perhaps I did not have the ankle strap as tight as I should have.
And of course, I have to share style – the poppy orange is neutral enough that my choice of one shoe all weekend was a success.  It's not too orange, and just the right pop of color.  The compliments were numerous.
The Sofft Vali is available in whole and half sizes 6-10, 11 at SofftShoes.com for $89.95, free shipping and returns. Also available at 6pm.com, OnlineShoes.com.