Comfortable Heels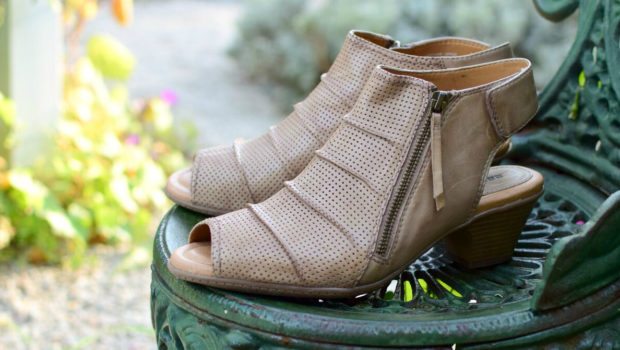 Peep-Toe Booties for Spring | The Stunning Earth Hydra
This review of the Earth Hydra is sponsored by EarthBrands.com. The opinions are completely my own based on experience. Reviewed by Kirsten Borrink.  
I must admit: peep-toe booties used to intimidate me. The ones I've seen are either too high or clearly not my style. I wondered if I had aged out of this particular trend and decided to leave it for the younger, hipper set. That was until Christina at Earth Brands contacted me to see if I wanted to try out one of their new styles for spring. The Earth Hydra caught my attention immediately with its stylish perfed and pleated leather upper with a diagonally-set side zipper. And the stacked heel is only two inches! I can do that! I think you can to…and don't think you'd have nothing to wear with them, they're surprisingly versatile.
Earth Hydra peep-toe booties features multi-density cushioning from heel to toe which provides a pillowy-soft buffer between sensitive areas of the foot and the hard floor. I'd call the arch support moderate–not as aggressive as a Vionic shoe, but definitely noticed and appreciated (it's difficult to find arch support in a heel).
Let's talk about the peep-toe, or open-toe as some call it. I like the idea of slowly introducing my toes to the elements after months of winter weather and the Earth Hydra allows just that. If you only want to paint your first two toes, that's about all that will show when you wear the Hydra! The toe box does taper quite a bit. This might not be a problem for you if you have nice flat toes. I think I notice the taper more because I have hammertoes…bleh.
The soft leather uppers feel great against my feet. I have moderate bunions and tailor's bunions; thankfully the uppers don't irritate either. I like the adjustable back strap, there's no need to fuss with the zipper.
I ordered the 10 medium and it fits true to size (I usually wear a 10, but sometimes a 9.5 if a shoe runs big). The Earth Hydra is available in whole and half sizes 5-10, 11, 12; medium and wide widths,  in four colors from EarthBrands.com, Zappos, Amazon, Shoebuy, and The Walking Company. See the whole gorgeous spring line from Earth Brands (Earth, Earthies, and Kalso Earth).
Do you have a favorite pair of shoes from Earth, Earthies or Kalso Earth? We love to dish all things shoes, so leave a comment and let us know! Your comments help other readers in their search for the best shoe for their "barking dogs."