Shoes for Plantar Fasciitis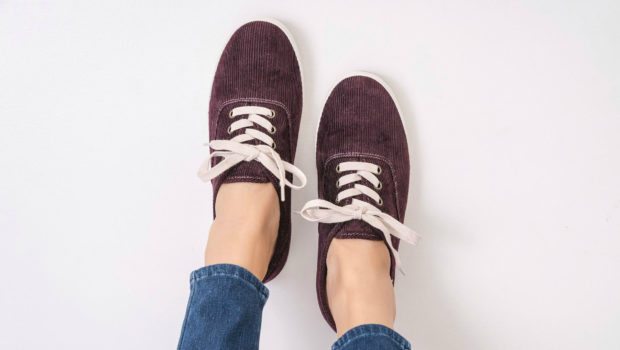 Super Stylish Shoes for Plantar Fasciitis [5 On Trend Picks]
Are your dreams of conquering plantar fasciitis this summer kicked to the curb? Did you plan to be back in your favorite flats by fall? You did all the stretches, wore the right sandals (no flimsy flip-flops–doctor's orders!), invested in supportive walking shoes, even slept in an oddball night splint contraption,  yet your heel pain persists. Don't stress it, we're here to help you find the perfect pair of shoes for plantar fasciitis–and we promise to keep them on the stylish side! We've even included shoes with removable footbeds should you need to use a custom orthotic.
We are huge fans of Taos footwear and their Curves and Pods® removable footbed, so we couldn't pass up the chance to shine the spotlight on the Guest Star sneaker. Just in time for fall, the Guest Star now comes in cozy corduroy uppers. But the inside of the Guest Star is where it's at! Take a look at the removable footbed featured below.
With all that you may not even need to use your custom orthotics, but if you do, no problem! Find the Taos Guest Star at a Taos retailer near you, or at TaosFootwear.com, Zappos and Amazon.
When considering stylish shoes for plantar fasciitis, we feel obligated to include ballet flats–a wardrobe staple for many women. But finding one with proper arch support presents a challange. Thankfully Vionic's Minna flat has what achy heels need: a removable footbed with deep heel cup to maintain alignment, enhanced arch support and flexible but sturdy midsole. The Vionic Minna is available in whole and half sizes 5-11 from Zappos, Nordstrom, Amazon.
Aetrex Erin
The Aetrex Erin is new for fall and we dig the saddle shoe vibe! Aetrex specializes in shoes for plantar fasciitis and other common foot problems (bunions, over-pronation).
A removable Lynco orthotic footbed aligns knees, hips and back while enhanced arch support relieves strain on the fascia tendon. Available in euro sizes 35-42 from Aetrex.com, Zappos, Nordstrom, Amazon.
Do you need office-appropriate shoes for plantar fasciitis? Aravon's Kitt Asymmetrical pump is chock-full of comfort technologies from a removable memory foam-cushioned footbed with arch support to a rocker sole for ease of stride–and a steel shank provides stability. As an added bonus, the enveloped vamp is bunion-friendly (especially in the black stretch-fabric version). The Aravon Kitt is available in sizes 5-13, four widths from Zappos, and Nordstrom. Find an Aravon retailer near you. (Aravon also recently released an ankle boot version of the Kitt pump).
No collection of shoes for plantar fasciitis would be complete without a Dansko option! We chose the Dansko Vinnie for its versatility, super reviews and general good looks. The closed-toe/slingback combo makes it a perfect choice for the transition into cooler weather. We love the buckle across the midfoot–it's not just for decoration! Tighten it up for narrow feet, loosen it a little for a wider width–genius.
While we don't recommend wearing more than a two-inch heel with plantar fasciitis, the Dansko Vinnie has a one-inch platform to lessen the pitch from toe to heel. And of course, the Vinnie features Dansko's signature contoured footbed with arch support and cushioning from heel to toe. Find the Vinnie in euro sizes 36-42 at Dansko.com, Amazon, The Walking Company.  Find a Dansko retailer near you.
Honorable mention goes to: Birkenstock Soft Footbed Arizona (we love the navy suede with gold buckles), Aetrex Scarlett supportive mule, Rockport Cobb Hill Paulette loafer (scores points year after year for cushioned support), and Oofos slides (ugly but gets the job done in the plantar fasciitis relief department).
If you're still not wowed by any of the styles featured here, be sure to check out our directory of over 103 plantar fasciitis shoes. 
Two insoles for plantar fasciitis relief: Dr. Foot 3/4 length orthotic and Heel That Pain insoles.
How about you, dear reader? Do you have a favorite pair of shoes for plantar fasciitis? Leave a comment here or on our Facebook page and let us know!