Comfortable Women's Flats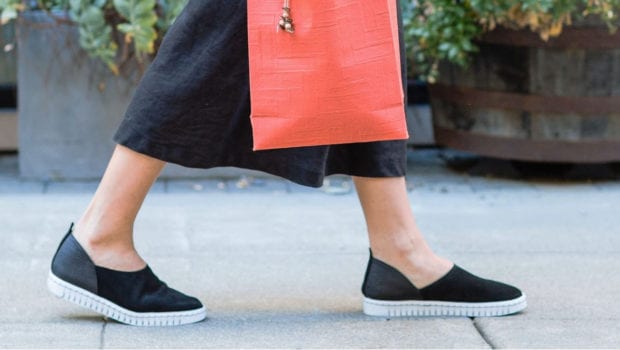 The BENDY Shoe: Comfortable, Stylish, Ethically-Made: Heather's Review
Meet BENDY, a stylish planet-friendly shoe hand-crafted in California. With a deeply-cushioned footbed, flexible outsole and buttery soft leather uppers, the BENDY surrounds the foot in comfort. Thank you to founder Mary Sue Papale, we were able to receive a pair of BENDY shoes for review. We turned to our vivacious friend Heather for a full review of BENDY…
I'm currently the high school director at my church, but COVID has given me the opportunity to step into a few other roles in the church that I could never have anticipated: my current newest endeavor is filming our services as part of the tech team. When you consider the time we spend setting up, running through and then filming the actual services, I can easily be on my feet for three hours straight, much of that standing still. Being behind the camera, I can't very easily stretch my legs, massage my back and still keep everyone in frame, so I need any support I can get. Enter BENDY shoes.
I wore my new BENDY shoes for the first time two weeks ago. I tried them out for shorter stretches at first, running some errands, taking a quick walk to the park, transporting kids to playdates. Then it came time for their true test: Sunday morning. I paired them with my new favorite dress yoga pants and a tech team shirt and set myself up behind camera.
Even after filming two services, my feet and back still felt great. These were, no joke, the third different brand I had worn in three weeks of filming, and these gave me the most support and comfort by far.
How do they fit?
As a size 11, I always have a little fear and trepidation when trying on shoes for the first time. Will my gargantuan feet fit in these? Will I look like a clown? These hugged my feet but weren't too tight. I have a narrower foot, and these fit nicely on width, too. Plus, the sleek design didn't emphasize the size of my feet. See this chart to help you order the correct size of BENDY shoes.
How do they feel?
I love the feel of my new BENDY shoes! They slip on easily (I'm always a sucker for easy on-and-off) and feel so cushy. The heel stays on, even when I jog a little or climb up on top of rocks. As someone who likes efficiency, I love a good slip-on that stays put. Plus, I really like the–wait for it– bendy nature of them. They're great from a style and movement perspective.
Versatility
Though the BENDY leans a little more toward the casual side, they can easily pair with so many looks– with a cute dress or skirt, shorts and a t-shirt or your favorite sweater and jeans. They're transitioning with me from summer to fall, too. They come in loads of colors, so you can go neutral or add a pop of color. One of the most important things for me when considering any part of my wardrobe is comfort. In fact, one of my favorite pieces of wisdom from my dad is "comfort knows no shame." With BENDY, I get the comfort with zero shame because, dang, these are cute! You can't always say that.  Also, I love that they're 100% woman-owned. Any time I can support other ladies, I'm in!
The BENDY shoe is available in sizes 5.5-11 for $149.95 with free shipping and returns/exchanges (within 30 days) from AshburySkies.com. Use code WELCOME10 for 10% off your first order.
Consult the BENDY Q & A section for more information about fit, feel, shipping policies and what makes BENDY an ethically-made shoe.