Comfortable Boots for women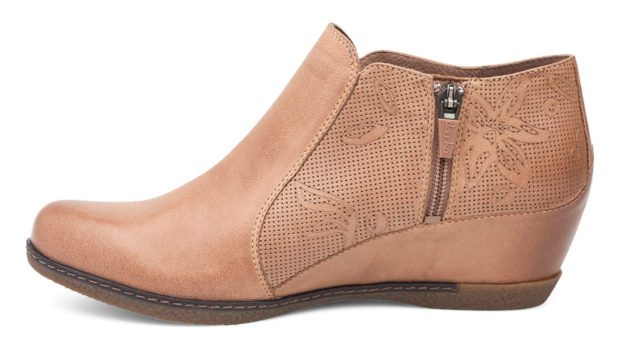 Delightful Dansko Luann Booties [Comfort for 9 – 5 and Beyond]
Dansko Luann booties provided by Dansko. The opinions are completely our own based on experience.
My Dansko Luann booties are a go-to wardrobe solution when I get called to sub at my son's school. Usually the call comes in last minute, so there's no time to fuss over what to wear. The Luann is the perfect solution as it lends a polished look to most outfits and carries me through a long day in comfort. I actually caught myself speed-walking down the hall to beat the bell.
While the toe box isn't as wide as the Dansko Professional clog, it is rounded with a gentle taper. At first, I experienced a little tightness at the bunion area, but the leather seems to be softening as I continue to wear my Dansko Luann booties. The heel height is perfect at two inches–keeping my foot from sliding to the front and jamming my toes (which often happens in higher heels). I prefer a wedge heel over any other kind of heel for the stability it offers.
The footbed is the best you'll find in a modern bootie like the Dansko Luann. It's removable and should accommodate dress orthotics. However, you may find the footbed to be supportive enough on its own with its enhanced arch support and memory foam cushioning.
The ankle opening is graceful; not too wide and doesn't rub on the ankle bone. The above photo shows the Luann on Beth's foot. As you can see the opening doesn't gape around her thin ankles. A side zipper allows for easy on and off and the elegant floral perforations make the Luann stand out from a pack of black ankle booties (plus they increase air movement through the shoe).
I find the Dansko Luann runs true to size. I'm normally a size 10 and the euro size 41 fits my feet well. I would recommend Dansko Luann booties for medium to slightly wide feet. If you're used to the wide toe box of the Dansko Professional or even the Dansko Shirley ankle boot, you'll find the Luann slightly more narrow in the toe.
The Dansko Luann is available in black and taupe leather, euro sizes 36-42 for $170 at dansko.com, along with a store locator to find a pair near you.
Have you branched out to try Dansko's non-clog offerings? We'd love to know your thoughts whether it's a sneaker, boot, sandal or flat.