Athletic Shoes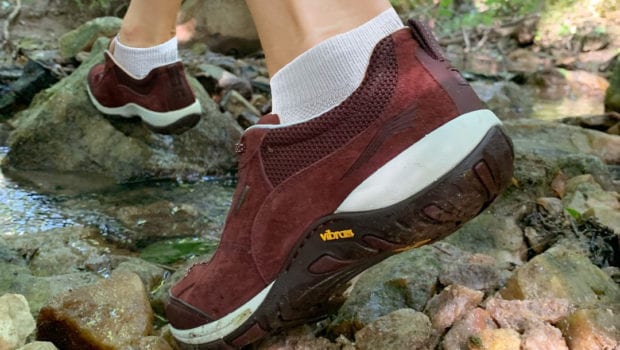 Published on October 13th, 2021 | by Kirsten Borrink
40
The Best Walking Shoes for Women 2021
Best Walking Shoes for Women 2021
I'm now at an age that when I tell people I have rheumatoid arthritis, I no longer hear, "Oh, you're too young to have RA," which we all know is just plain silly because toddlers get RA (and by we, I mean the RA community).  Now people categorize my arthritis as the normal wear and tear osteoarthritis that their great-aunt has–I guess I'm old enough to have arthritis now. Even I get confused when an ache or pain hits a new joint.  Is it an RA flare-up or just the wearing down of an overused knee or hip? But one thing's for sure, I want to stay active as long as I can. I'm an older mom with young kids. I want to be able to dance at their weddings.
I've tried jogging and love the cardiovascular workout and endorphin rush, but my knees nixed that crazy endeavor, as did my rheumatologist. So I returned to what I do best: I walk…as quick as I can. While my friends do crossfit, hot yoga, early spin classes and kick-boxing, I walk. I really do wish I could participate in those activities to challenge myself, but I know my limits. So I walk. It's something I can do with relatively little pain, hopefully for a long while. Currently I enjoy walking in my Topo Ultrafly shoes for their foot-shape toe box (without looking like clown shoes), good arch support and cushioning. Stay tuned for a full review. In the meantime, consider one of the following best walking shoes for women (even if they're billed as running shoes)…
Mary, a Zappos customer says this about her Hoka One One Bondi 6 (a predecessor to the 7):
I was diagnosed with mid foot arthritis and had several foot fractures. The shoe was so comfortable and spread out the foot pressure. The slight rocker made it wonderful to stand and walk.
And Joey loves hers too:
I wear my Hokas every day. I have rheumatoid arthritis. My feet and ankles swell if I don't wear my Hokas. My rheumatologist recommended them. Best advice ever.
The Bondi 7 is Hoka's most cushioned running/walking shoe. It's available in sizes 5-12, medium and wide widths for $150 from HokaOneOne.com, Zappos, Amazon, and Holabirdsports.com. See the whole collection of Hoka walking shoes at HokaOneOne.com. Prefer to try them on in a store? Use Hoka's store locator to find one near you! If you have a question about which Hoka shoe is for you, contact their helpful customer service department via phone, email or chat.
Brooks may be a running shoe brand but a few of their styles double as some of the best walking shoes for women.
When I asked by Facebook community for their favorite walking shoes for women, the Brooks Dyad was recommended by a follower with hallux rigidus (stiff, painful big toe caused by arthritis or injury). The thick sole protects the forefoot from over-flexing during the stride. Online reviews mention a roomy toe box, good fit at heel, room for orthotics, and extra-wide widths. Brooks customer Barb wears her Dyads for walking and loves them:
These are awesome shoes for my old worn out arthritis ridden feet and knees. Plenty of cushion and stability, and plenty of room for my custom orthotics. A lot of my aches and pains really settle down when I wear these. I don't run but I do walk 2-5 miles/day.
Find the Brooks Dyad 11 in sizes 6-12, medium to extra-wide width for $85-130 from Zappos, Amazon, BrooksRunning.com, and HolaBirdSports.com. Find a Brooks retailer near you.
The Brooks Adrenaline is another highly recommended style from our Facebook discussion about best walking shoes for women. Perfect for wider forefoot and narrow heels, the Adrenaline features enhanced arch support and "guiderail" technology to keep feet and knees aligned during stride. Find the Brooks Adrenaline in sizes 5-13, narrow to extra wide widths for $130 from Zappos, and BrooksRunning.com.
How about a few recommendations from a top podiatrist in the Phoenix area and author of Podiatry Shoe Review?
Dr. Cathleen McCarthy chimed in with her favorite walking shoes for women in a recent Facebook post. Her number one walking shoe is the New Balance 928. Its rollbar technology keeps feet from rolling inward, reducing rear-foot movement. So if you're an over-pronator, this could be the perfect walking shoe for you. Take it from a happy Zappos customer:
These are the ONLY shoes I can wear for walking long distances. The firm heel counter really helps to keep my feet walking all day. They're not the prettiest shoe on the market, but the most stable. It's great to have shoes for narrow feet as well.
Yes, you read that correctly, the New Balance 928 comes in five widths from narrow to extra-extra wide. It's hard to find a supportive walking shoe in a narrow. Available in sizes 5-13 and five widths for $139.95 from Zappos, NewBalance.com, Amazon and HolaBirdSports.com.
Three of our Facebook followers recommend the Dansko Paisley sneaker: "It gets me off the ground like an anti-fatigue mat," and "accommodates my pttd brace." The Paisley features a removable footbed, wide toe box and thick rocker sole which feels great when you suffer from forefoot pain and/or hallux rigidus. It's also waterproof and slip-resistant.
Find the Dansko Paisley in euro sizes 36-43 (5.5-12) medium and wide widths for $144.95 from Zappos, Dansko.com, and The Walking Company.
Another Facebook fan recommends Crocs sneakers for relief from pain and discomfort caused by Morton's neuroma. The Crocs Literide Pacer is made of the same resilient Croslite™ as regular Crocs and provides lightweight cushioning and ventilation from heel to toe. Find the Crocs Literide Pacer in sizes 5-11 for $59.99 from Zappos, Crocs.com, and Amazon (lots of fun colors).
Oofos–a silly name for seriously comfortable shoes. Perhaps you've seen their sandals or even own a pair. Did you know the brand just released a new closed-toe shoe with all the same cushiony support as their sandals? The Oofos OOmg eeZee low shoe features revolutionary OOfoam® technology that absorbs 37% more impact than traditional footwear foam materials to reduce the stress on your feet and joints. Find the OOmg eeZee low shoe in sizes 5-12 for $119.95 from Oofos.com, Zappos, and HolabirdSports.com.
**See even more of our favorite walking shoes for women: Kirsten reviews the the On Cloud running shoe and Beth reviews  Ecco Soft 7 sneakers