Special Features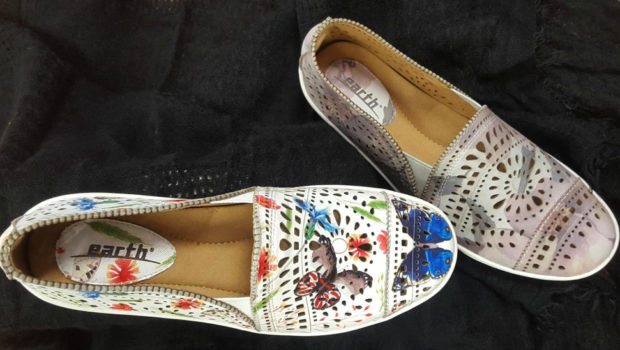 Wear This, Not That: Lovely Alternatives to Latest Trends
Sometimes style and practicality find themselves at odds.  Maybe shoes that are wildly popular fashion-wise just won't cut it for you from a comfort perspective.  Or perhaps a certain "it" shoe appeals to you, but is too expensive.  In an effort to help our readers stay stylish but still comfortable and/or on budget, we proudly present our picks of cute, comfy alternatives to four currently popular  shoe styles.
Slip-on sneakers have been around forever.  But in the 80s, Vans took them to a new level of California cool that was a far cry from Mr. Rogers and the Professor on Gilligan's Island.  This versatile style has had yet another resurgence in the last couple of years, but some things haven't changed – slip-ons can often be clunky, fit poorly, and have very little support.  Thankfully comfort shoe brands have taken notice and offered up options like the Sofft Somers, which gets 5-star reviews for being stylish, lightweight, and supportive.  The Earth Tangelo is another great option, loved by reviewers for its comfort, sleek styling, and trendy perforated uppers.
If you search online for flexible flats, you're sure to quickly encounter the turquoise blue-soled Tieks, which  seem to have taken the world of flats-wearers by storm.  Reviewers love their foldability, luxurious packaging, and large selection of colors and patterns.  Some rave about the comfort, others not so much.  But price is the real deal-breaker for many – they can run upward of $200.  If Tieks appeal to you but not your wallet, consider the similar but much less pricey Yosi Samra Samara, a flexible flat that earns 5-star reviews.   If you want a comfortable flat but don't need foldability, a great, less-expensive-than-Tieks alternative is the Joseph Seibel Pippa, which gets terrific reviews for fit and comfort. And yet another consideration is the Born Julianne with its arch cookie (cushioned insert at the arch), and good fit at the heel.
If you love the fun patterns and vibrant colors of flip flops like Havaianas but fear (rightfully so) that your feet won't love them, we have a find for you!  The Vionic Beach Noosa is a sleek, fun, colorful flip flop that has arch support, cushioning, and heel cup for stability.  Having long abandoned flimsy (albeit fun) flip-flops in the name of comfort, we can't wait to give the Vionic Beach Noosa a try this summer.
Knit trainers are having a fashion moment, which makes us happy because the forgiving, sock-like knit uppers can be great for folks with bunions or hammertoes.  But most lack any meaningful arch support.  We finally found it in the Altra Escalante knit sneakers.  Take it straight from the Barking Dog's mouth – these are awesome!  (Keep an eye out for our full review, coming soon.)