Comfortable Boots for women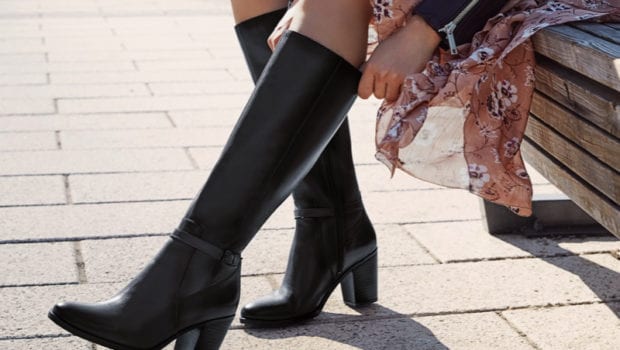 Published on November 8th, 2020 | by Beth Bengtson
9
Wide Calf Boots & Slim Calf Boots: Boot Love For All Shapes
I've heard it said that "Men have power ties; women have boots." If you have other-than-average sized calves and have difficulty finding well-fitting boots, it's finally time for you to step in with the power crowd, because we've come up with a crop of great options for both slim calf and wide calf boots wearers.   For reference, wide calf boots are considered those with a calf circumference of greater than 15 inches.  Slim calf boots are those with a calf smaller than 13 3/4 inches.  Please note – whether your calves are slim or wide – your calf measurement is usually not the same as the boot circumference you'll require.  You need a bit of wiggle room, so allow an extra inch.  For example, if your calf measures 15 inches, you'll probably need a 16 inch circumference boot, especially in taller boots that cover the widest part of your calf.
Wide Calf Boots:
When it comes to extra wide calf boots, David Tate does it Best – which also happens to be the name of this style! This classic black boot accommodates calves up to 20-21″ and foot widths from medium to extra wide. Premium quality leather uppers and a cushioned footbed add to the all-around appeal of this cozy and stylish boot. Available in sizes 6-13 for $224.95 from Zappos and Shoemall. For 18″ calves, take a look at the David Tate Branson.
There's lots to love about the riding-inspired Sam Edelman Penny 2 Wide Calf boot.  In addition to its 17″ calf circumference, it has hidden goring insets for a better fit and feel, and a back zipper for easy on/off. A luxurious leather upper and lightly cushioned footbed will keep you looking and feeling great.  Find them in extended sizes 4-13, medium and wide widths. Prices range from $105-$190 at Zappos, Amazon and Peltz Shoes.
The classy Naturalizer Kalina Wide Calf boot transitions beautifully from day to evening thanks to a sleek leather upper and 3″ stacked heel.  A contoured, cushioned footbed with arch support and a non-slip outsole add comfort and practicality, and a roomy 16″  calf circumference (plus a gored inset) means wider calves are well accommodated. The Naturalizer Kalina Wide Calf  is available in sizes 4-12 in medium and wide widths for $230 at Zappos, Naturalizer.com and Nordstrom.
We love the unique style sense of the Bed Stu Manchester Wide Calf boot, featuring a distressed leather upper, lace accents, and contrast stitching. This easy-to-wear boot would work perfectly with anything from flowy dresses to your favorite denim. And thanks to the stylish back laces, the calf circumference is adjustable between 16.25 and 17 inches. Available in sizes 6-11 for $295 at BedStu.com, Amazon, Zappos. 
We'll transition from wide calf to slim calf boots with a style that does the same, the Clarks Pure Caddy. This over-the-knee boot features a smooth leather upper and stretch-textile back, meaning its 14.5" original circumference expands to accommodate both slender and wider calves. The sleek, minimal silhouette of the Clarks Pure Caddy is lovely with casual and dressy outfits alike. It also boasts signature Clarks comfort features like anatomically-targeted dual-density cushioning to reduce strain on the ball of foot area. Available sizes 6-10, $230 at ClarksUSA.com, Zappos, and Amazon.
Slim Calf Boots:
For unique styling that also beautifully accommodates both wider and slim calves, check out the Sofft Sharnell 2 Waterproof Boot. Thanks to stylish, vintage-inspired lacing, the shaft circumference is adjustable from 13 1/2″ to 17″. And it's super practical for all weather conditions, since it's part of the AQUA Sofft Collection, featuring waterproof uppers and seam-sealed construction. Supple uppers and a cushioned footbed with arch support make the Sofft Sharnell 2 as comfortable as it is beautiful.  Available in a wide array of colors, in both smooth leather and suede options, sizes 6-11 for $210 at Zappos, and Amazon. The Sofft Sharnell II also comes in a heeled version and a mid-calf version.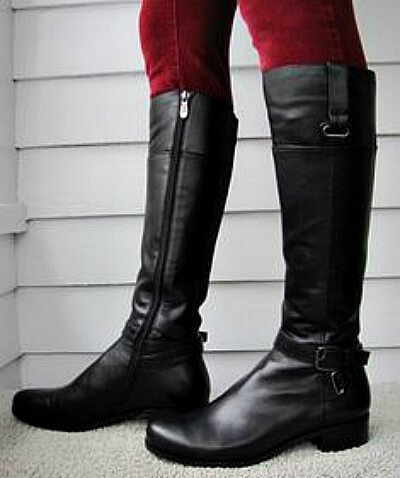 Solemani Gabi (Image: Pinterest)
Wearers with slim and extra-slim calves need to know about Solemani boots. This brand offers numerous styles of boots in slim (13″) and extra-slim (12″) versions. One of our favorites is the Solemani Gabi, a classic riding boot style in butter-soft leather.  Elastic on the back provides a perfect fit on calves and ankles.  Solemani boots get rave reviews from slim-calved wearers who have searched for years to find boots that fit.  Find a wide range of both dressy and casual Solemani boot styles, available in slim and extra-slim, at Amazon.
A happy Zappos customer raves, "Skinny girls, buy these boots! I have tried and returned nearly 20 pairs of boots this season because they all look like waders, even the ones that supposedly have a narrow circumference. Look no further, buy these boots!"  She's not the only one who loves the Eric Michael Montana; multiple reviewers with thin calves say this boot fits snugly without gapping. With a 14″ calf circumference and an adjustable buckle, you'll be able to get a perfect fit around narrow calves.  Find the Eric Michael Montana in euro sizes 35-42 for $190 from Zappos and Amazon (multiple colors).
Tall laces add to the hip style of the Taos Tall Crave boot, but also mean the kind of adjustability that's perfect for cinching around slim calves.  A side zipper makes for easy access – no bothersome lacing and unlacing to get the boot on and off. The Taos Tall Crave boot features a just-right heel height and a leather-lined, removable Taos Soft Support™ PU dual-density footbed for extra comfort and support. Available in euro sizes 36-42 for $250 at TaosFootwear.com, and Zappos.  For more details about the Taos Crave boot, read Kirsten's recent review featuring the lower, ankle boot version.
Another favorite of online reviewers with slender-to-very slender calves is the classy, wear-with-everything Kenneth Cole Levon. Some wearers have searched for years to find boots that don't gap at the calf or bunch around the ankles, and are thrilled to have finally found a boot that fits them. The calf circumference of this boot starts at an extra-petite 12.5 inches, but the stretch knit back panel expands to accommodate varying calf sizes. The Kenneth Cole Levon is available in sizes 5-11 for $240 at Zappos and KennethCole.com, and $140-$240 at Amazon.
Please leave a comment if you have calves that are wider or slimmer than average and have found a boot that works for you! We love getting recommendations from our readers.
SaveSave
SaveSave
SaveSave
SaveSave
SaveSave
SaveSave
SaveSave
SaveSave
SaveSave
SaveSave
SaveSave
SaveSave
SaveSave
SaveSave
SaveSave
SaveSave
SaveSave
SaveSave
SaveSave
SaveSave
SaveSave
SaveSave
SaveSave
SaveSave
SaveSave
SaveSave
SaveSave
SaveSave
SaveSave
SaveSave