Comfortable Boots for women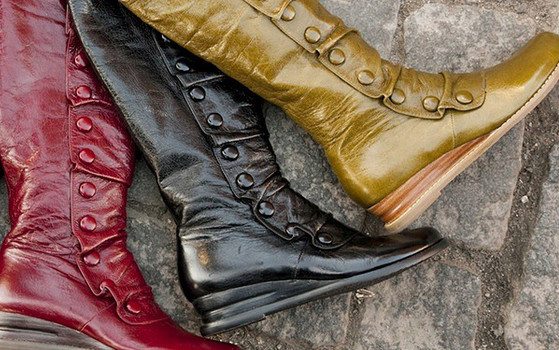 Published on October 8th, 2015 | by Kirsten Borrink
10
5 Wide Calf Boots from Keen, Dansko, Naturalizer and others
Wide calf boots are gaining in popularity. When Dansko finally gets on board and offers a wide calf boot option, it's my job to tell you. In fact, all the lovely items pictured above come in both a regular and wide calf boots option this fall.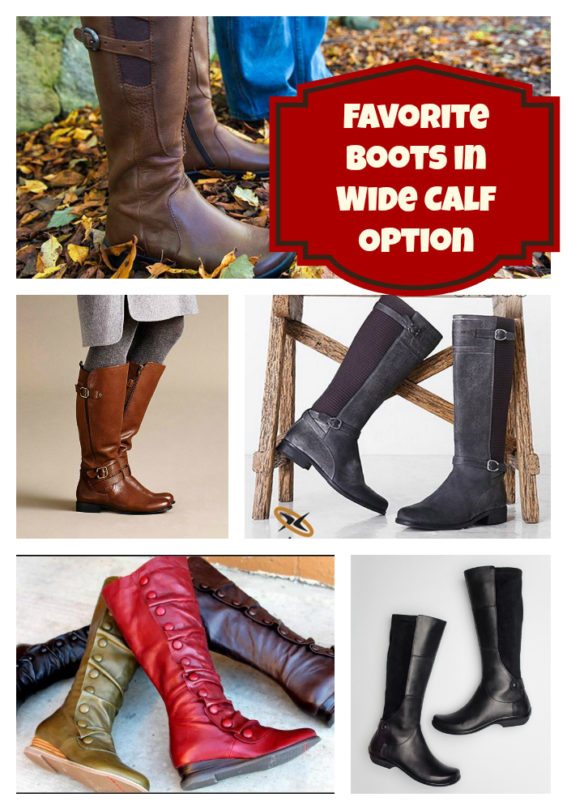 Top photo: Keen Bern Baby Bern wide calf. A casual, yet good-looking kick-around boot, the Keen Bern Baby Bern is available in regular (15 1/2″) and wide option (16″) calf circumference. Mind you, the difference between the two is slight, but it may be just what you need to enable jean tuck-in or heavy socks. The Bern Baby Bern Wide Calf boots features a water-resistant leather upper, recycled PU/cork/memory foam footbed and a roomy toe box. Available in black and brown; whole and half sizes 5-11 for $185 at KeenFootwear.com, Zappos, and Amazon.
Middle row, left photo: Naturalizer Jordie wide calf. I have a pair of Naturalizer tall boots from three years ago and they're still going strong (and don't irritate any hot spots on feet–bunions, hammertoes…). The new Jordie riding boot is not only available in regular and wide calf, but also medium, wide and double wide foot widths in whole and half sizes 4-12. See the actual calf circumference measurements for each size here. $79.99-89.99 at Naturalizer.com, free shipping. Find a Naturalizer dealer near you. See the new Naturalizer Winnie wide calf boot if your size isn't available in the Jordie.
Middle row, right photo: The Aetrex Essence Chelsea wide calf boot features a waterproof leather upper and a stretchy sweater back for a comfortable fit. The Essence last is designed to hold the heel in place while providing a roomy toe area. A cushioned footbed and moderate arch support add to this boot's all-day comfort factor. 16 1/2″ calf circumference, whole and half sizes 5-10, 11. $199.95 at Zappos. For slimmer calves, try the regular Aetrex Chelsea with a 13 1/4″ calf. Find an Aetrex dealer near you. Get a great deal on the Aetrex Chelsea at Amazon.
Bottom row, left photo: Miz Mooz Bloom wide calf boots. Guaranteed to stand out in a crowd of run-of-the-mill riding boots with its button detail and ruched upper, the Miz Mooz Bloom Wide Calf features a 1 1/4″ wedge heel for a little lift, a wide and rounded toe box, lightly cushioned insole and a 16″ calf circumference with elastic gore insets for additional stretch. Available in beautiful autumn colors like deep red, loden green, stone gray plus black and brown in whole and half sizes 6-10, 11 (order up if between sizes). $199.95 at Zappos, $72.50-199.95 at Amazon. The regular Miz Mooz Bloom has a 14″ calf circumference.
Bottom row, right photo: Dansko Odette wide calf. Dansko's first and only boot with a wide calf option, as far as I know! The calf circumference measures in at 16″ and keep in mind the back of the boot is made of stretchy fabric. The Odette features a removable, contoured memory foam footbed for good support and cushioning. Available in euro sizes 36-42 (5.5-12) for $99-199 at Amazon, free shipping and returns; $159.99 at Shoebuy, free shipping.  Read Debbie's review (and see good "on-the-foot" photos) of the Dansko Odette (regular calf) at Refresh Restyle. Find a Dansko dealer near you.
Do you wear wide calf boots that didn't make the list? Leave a comment and let us know!
7 Shopping Tips for Wide Calf Boots
When the weather turns cooler many of us think of pumpkin spice, holiday preps and a great pair of boots. Taller boots such as to the knee or above the knee styles, may require extra thought for some women. Gals who have more athletic calves due to working out or from our family 'inheritance' may find it more difficult to shop off the rack based on styles we love. We need to look for specific styles known as wide calf boots. Wide calf boot styles offer more room in the calf and sometimes the ankle area too.  If you're like me, in addition to finding a style that fits, you also need to find comfortable boots that won't aggravate your problem feet.
Here's some good news, in the past two years probably 80% of U.S. shoe makers have added boots to fit more athletic calves. We've found most online shopping sites such as Zappos and OnlineShoes.com have a category for wide calf boots. That means whether you need fashion boots, rain boots or chase-the-kids boots, you'll have more choices and price points than ever. But not all styles are the same when it comes to comfort and support. So here are 7 things to keep in mind when you shop for wide calf boots.
Know your numbers. Its important to take the time to measure your calf to know how wide of a boot you should order. Here's how to measure to get the correct width: Helpful advice from Teen Vogue suggests sitting on the edge of a chair with your foot flat on the ground. Use a tape measure to measure the widest part of your calf. And be sure to measure both legs. Experts say our calves are often different sizes (who knew) and if they are more than a half-inch different you may want to go up an inch in your 'calf' measurement when shopping for boots. So if your right calf is 17 inches and your left calf if 17 5/8, you may need to look for boots that fit at 18″ calf.
Another thing to know: manufacturers vary with what they call a 'wide calf' boot. We found some helpful descriptions from The Curvy Fashionista:
Wide Calf boots are generally 16 to 18 ¼" wide
Extra Wide Calf boots are generally 17 ½ to a 20" wide
Super Wide Calf boots are generally 18 to 21" wide
We've also noticed a few websites stock up to 24 ¾
Other helpful numbers to know are your shaft height and the shaft height of your boot. Some manufacturers measure up 13 ½ inches from the sole on the boot and that's where they record the "calf width" of that style. If you are 5'3" tall or under, a good rule of thumb is to add one inch to the calf measurement you found with your tape measure. According to wideshaftboot.com that measurement plus one inch will be your calf size for ordering purposes, based on the typical shaft height of boots.
How will you wear them? Another factor to keep in mind when shopping for wide calf boots is how you will wear them. If you're a fan of comfy socks in chillier boot weather, you should bring a pair of socks with you when you try on boots. And, you'll need to add a bit of space in your calf 'measurement' as you select the right pair online. Also, you may need to add a bit to the calf size you shop for if you are a fan of tucking your jeans or pants into taller boot styles.
Need a bit more room? You'll want to look for some goring. A lot of boots have elastic goring hidden behind some leather or it takes up a whole panel across the back. You may also see a buckle that allows you to take in or let out a little leather in the fit. Another tip, some cute styles come with extra stretch or adjusters in the calves that give you additional room without looking like it. And finally some women swear by lace up styles. They allow a custom fit while keeping your ankles stable.
Need more support? Did you know some boots are orthotic-friendly styles. When I'm shopping I reach in and see if I can gently pull the insole right out. If you are shopping online many manufactures will say if the boot comes with a removable insole. Orthotics can change the angle of your foot in a boot and help support you. We've found orthotics that may fit your boots. The Oh Active orthotic by Vionic is a supportive and affordable choice;  Here's a cute bootie that actually comes with an orthotic built in.
Check the toe box Those pointy high heel boot style may look cute. But that narrowing of your toes can force your foot into an unnatural position. This can make you less stable but it can also lead to painful steps or even a Morton's Neuroma. I generally stay away from pointy toes. With some boots, you won't truly know how the toe box is shaped until you try a boot on. That's one of the reasons I love ordering online- you can order three pairs and return two, to ensure you get comfortable fitting boots.
Watch your step When considering a pair of boots, wide calf or otherwise, you should look at the traction and the sole to see if it fits the environment you'll be wearing the boots in. No one wants to slip on the train platform even in cute boots.
Wide foot not just wide calf? Please note, experts say a wide calf boot doesn't necessarily mean the style has a wide foot. If you're a gal who needs a wide size shoe, you may have to read the fine print or order several styles to find one that fits your calf and your ankle and foot.
At BarkingDogShoes.com we've field tested thousands of shoes and boots and posted reviews to help make your search for comfortable footwear easier. As the wide calf boot market expands we hope to provide more options for women of all calf sizes that will protect your problem feet while providing style and support. As a general rule, some of the better comfort brands such as Dansko and Naot, make pretty fashion boots that are going to offer roomy toe boxes and removable foot beds. Merrill boots are outdoorsy but also cute. Keens tend to run wider (big plus for feet with bunions).
And if ankle boots are more your style, we can help you find a great pair of ankle boots with support that may work for your problem feet.
Contact Us
We hope our advice on finding comfortable stylish wide calf boots for women with problem feet have been helpful. Found a style you love that's not on our list? Let us know! Contact me with your question or comment by posting on our blogs, tweeting or joining our active Facebook community.
Related Resources