Comfortable Sneakers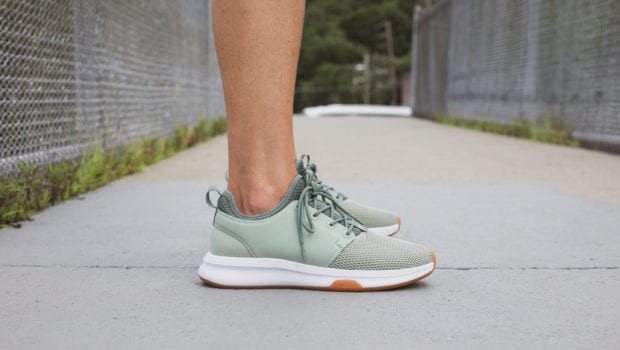 Published on March 6th, 2022 | by Kirsten Borrink
4
Kuru Atom Fitness Shoe Review : Tina Finds Relief for Plantar Fasciitis
This review of the Kuru Atom is sponsored by Kuru Footwear. The opinions are completely our own based on experience.
Our friend Tina reviews the Kuru Atom fitness shoe:
Thanks so much for letting me try these shoes. I'm in love. I will definitely be buying another pair when these are worn out. My new Kuru Atom shoes were comfortable right out of the box. Never did I feel like I was "breaking them in."
Putting the Atom to the test. Over the course of two weeks I:
Took the dogs for ¾ – 2 miles walks four times.
Wore to Orange Theory Fitness four times (they are now my go-to OTF shoe).
Ran a bunch of errands.
Walked and walked around Nashville visiting my son.
The Kuru Atom provided relief for my problem feet:
I have plantar fasciitis and definitely feel the support and cushioning at the heel– almost like a cup under my heel area.
I LOVE that the eyelets/laces start behind the big toe knuckle. I have a bone spur on my left big toe knuckle and have had no pain with these shoes.
There's plenty of cushioning for my neuroma spots that can cause me pain and numbness. The toe box is perfect; not too wide, not too narrow.
I love the styling:
When your 27 year-old Orange Theory coach/firefighter stops you in the middle of your floor routine to ask if you got new shoes, asks what kind they are and if you like them, you know they are COOL! Seriously, this happened.
When you visit your 19 year-old at college in Nashville and he comments on your new shoes in the first 5 minutes of getting there, you know they are COOL!
The minimalist styling is similar to Allbirds Tree Dasher, but with more support and stability.
I can wear these sockless as the uppers are soft and breathable.
KURU, please change one easy peasy thing:
The laces! I almost feel bad saying this because I love this shoe, but they really are annoying. Every time I walked the dog they would come untied. It also happened during a work out so I am forced to double tie. Still, I had to stop and untie and retie because the laces came too loose. My husband thinks I am reverting back to my childhood and need shoe-tying lessons again. HOWEVER, I disagree. I'm not sure why this happens…perhaps the round laces?? For now I will buy new laces and see if that helps.
A few more observations to help you decide if the Kuru Atom is for you: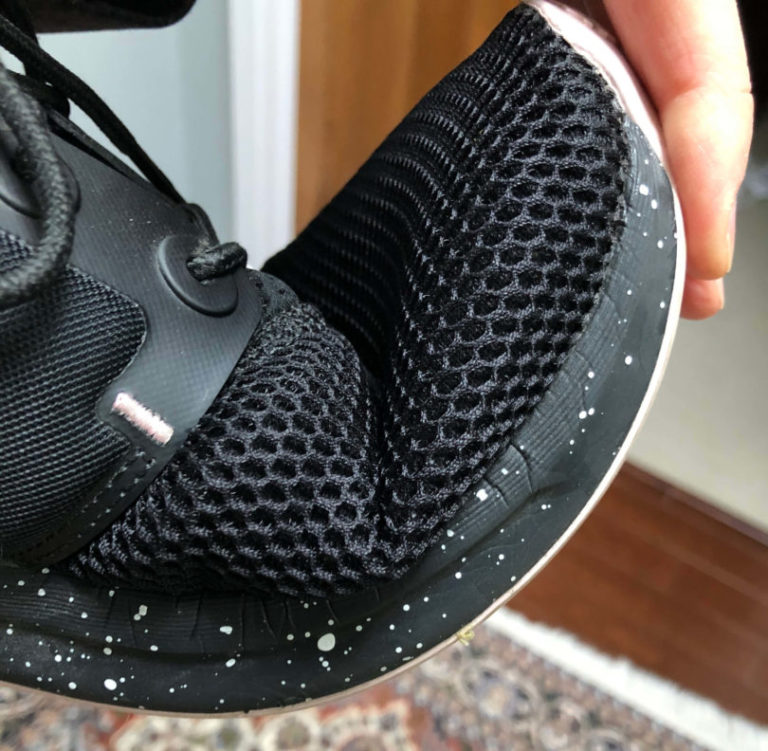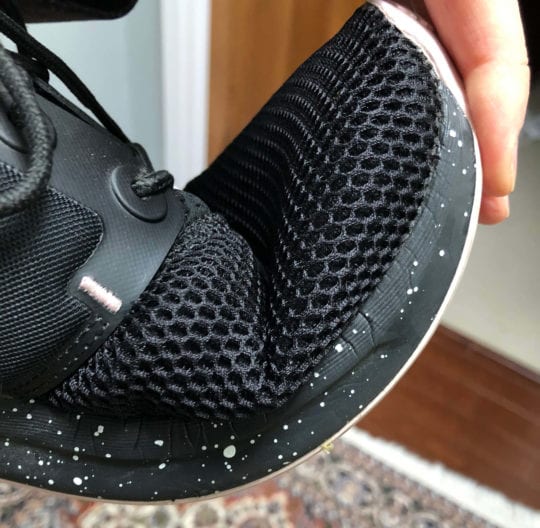 The Atom is fairly flexible at the forefoot. If you have hallux limitus/rigidus, it may be too flexible for you (see photo at right).
The heel to toe drop is 8mm.
True to size and width.
Made in the USA
The Kuru Atom performance shoe is available in whole and half sizes 5-12, medium and wide widths for $150 with free shipping and returns/exchanges (for 45 days) from KuruFootwear.com.