Comfortable Boots for women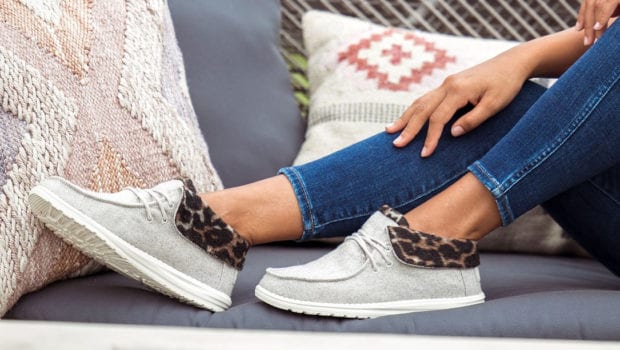 Published on November 17th, 2021 | by Kirsten Borrink
24
6 Cute, Comfortable Ankle Boots Bring Blissful Relief to Problem Feet
Ankle boots have established themselves as a wardrobe staple deserving of top-shelf status right next to tall boots. In fact, I find I gravitate toward ankle boots as a more versatile and comfortable option to tall boots (I recommend Jo-Lynne Shane's style primer on how to wear ankle boots if you're still wondering). Have you found a pair of stylish, comfortable ankle boots yet? The ones that cradle your foot, fit like a glove and look great with your cool-weather wardrobe? With the thousands of ankle boots online and in store, it's mind-boggling trying to decide which one will work for you and your particular foot issues. Let us help you narrow the search with our round-up of 6 comfortable ankle boots for everything from plantar fasciitis to hallux rigidus. And if you still can't find what you want, check out our lively discussion about comfortable ankle boots on our Facebook page!
Most comfortable ankle boots for plantar fasciitis: Naot Helm. Take it from Zappos customer, Sharon:
I've been struggling with painful plantar fasciitis for over 2 months; shots from a podiatrist; have given away several pairs of shoes and so much time spent looking for and returning any types of shoes I could wear (yes – and different supposedly orthopedic insoles). These are the only ones that I have been able to wear without pain and actually walking normally instead of limping.
We love the Naot Helm's ability to perfectly combine a fashion-forward aesthetic with orthopedic comfort. Find the Naot Helm in six beautiful colors, euro sizes 35-43 (4-12) for $199.95 from Zappos. See our educator review of the darling Naot Kahika bootie for another comfortable option with rounded toe box and a more "relaxed" look.
Best ankle boot for hallux limitus or rigidus: Dansko Barbara.
If you have hallux rigidus (painful big toe due to injury or arthritis), you've most likely been told to wear a shoe with a firm sole to keep the big toe from flexing too much. But sometimes rigid-sole shoes can feel hard and unforgiving to aching feet and toes. Thankfully, the Dansko Barbara not only features a thick (yet lightweight) outer sole with rocker motion, the footbed is generously cushioned with memory foam. The toe box is roomy to accommodate sensitive toes. Find the Dansko Barbara in euro sizes 36-42 (5.5-11.5) for $170 from Dansko.com, and Zappos.
The adorable Dansko Bettie is similar to the Barbara, but with a fold-down shearling collar! Find it at Dansko.com and Zappos.
Don't forget Fitflop ankle boots if you have hallux limitus or rigidus. Most feature thick, cushioned soles with roomy toe boxes. The styles keep getting cuter and cuter!
Best affordable comfort bootie: Hey Dude Britt
We're huge fans of Hey Dude shoes, and are thrilled that they offer an ankle-high bootie that's just as cute as they come. For $59.95, you get a faux-fur lined canvas bootie with removable memory foam footbed and super lightweight outsole (the whole boot weights in at a mere 5.6 ounces). Hey Dude shoes (including the Britt) offer a roomy fit, which is great for feet with bunions and hammertoes. Find the Hey Dude Britt in a variety of colors and patterns in whole sizes 5-11 for $54.95 with $4.00 boxless shipping (or free shipping with purchases of $100 or more) and free returns from Zappos.
Runner-up: Bzees Golden ankle bootie for $59 (comes in wides and has many 5-star reviews).
Best non-leather ankle boot: Bussola Chia
These cute and comfortable ankle boots by Bussola are made from a slightly stretchy microfiber which makes them forgiving of bunions and hammertoes–they're also water-repellent! The insole is lightly cushioned and the non-slip outsole is flexible. These booties run a little small, so order up a half you may want to order up a size. Find the Bussola Chia in sizes 6-11 for $94.95 from Shoemall and Amazon.
Best wedge ankle boots: Sorel Evie Lace. I was just about to include the ever-popular Sorel Joan of Arctic II Wedge collection to this article on most comfortable ankle boots, but couldn't get past the three inch heels. Then I saw these! The Evie features a 2 1/4″ wedge heel with a 3/4″ platform–that's a rise of only 1.5 inches. The upper is made of waterproof suede and the outsole is molded rubber. Available in sizes 5-12 (even a 10.5) for $140 from Sorel.com, Zappos, an Amazon. Check out the zip-up version of the Sorel Evie here.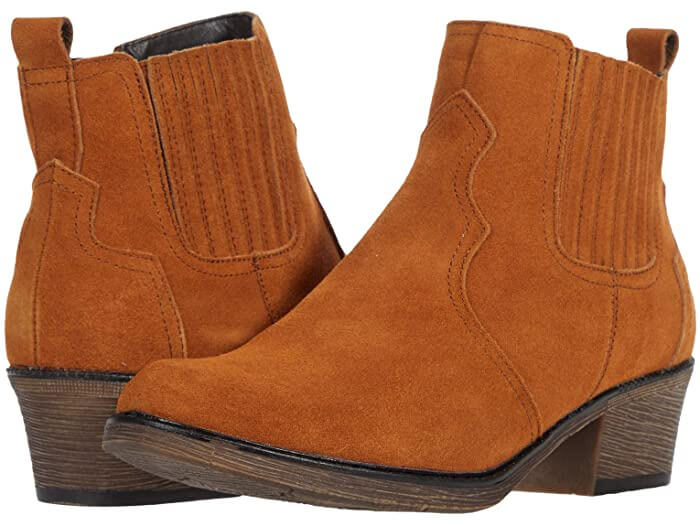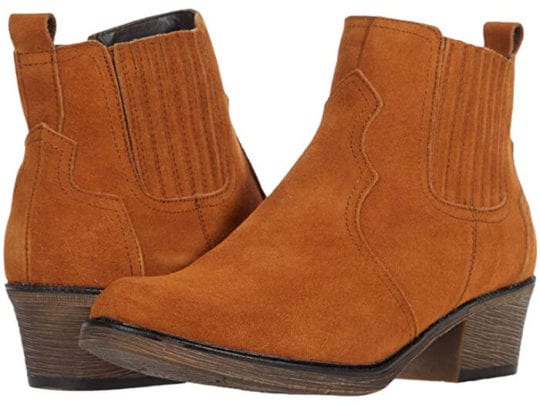 Best stylish ankle boot in multiple widths (even narrow!): Propet Reese
We're encouraged to see Propet branching out to design more stylish footwear. The western-inspired Reese ankle boot features a rounded toe, removable footbed and shock-absorbing outsole. The Propet Reese is available in sizes 6-11, narrow to extra wide for $95 from Zappos, Amazon and Shoemall.