Comfortable Boots for women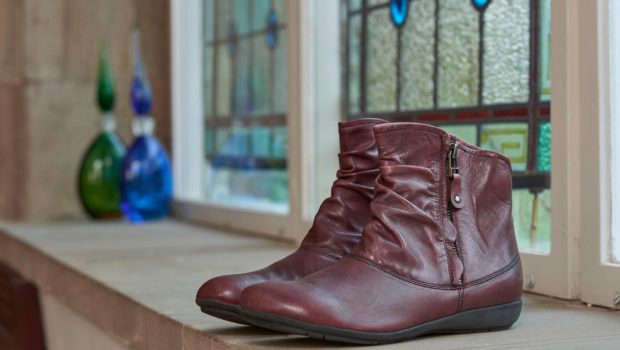 6 Ankle Boots Bring Blissful Comfort to Problem Feet
Ankle boots have established themselves as a wardrobe staple deserving of top-shelf status right next to tall boots. In fact, I find I gravitate toward ankle boots as a more versatile and comfortable option to tall boots (I recommend Jo-Lynne Shane's style primer on how to wear ankle boots if you're still wondering). Have you found the perfect ankle boot yet? The one that cradles your foot in all-day comfort, fits like a glove and looks great with your fall outfits? With the thousands of ankle boots online and in store, it's mind-boggling trying to decide which one will work for you and your particular foot issues. Let us help you narrow the search with our round-up of 6 comfortable ankle boots for everything from plantar fasciitis to hallux rigidus.
Best ankle boot in extended sizes and widths: Are you tired of falling in love with a boot only to find the sizing ends at 10, or even 11? What about you size 10.5 women? We're sure your tired of seeing your size skipped completely. Not so with the SoftWalk Inspire. With whole and half sizes up to 12 and three widths, we feel confident you'll find a good fit. An added bonus: the footbed is removable and may accommodate an orthotic insole. Find the SoftWalk Inspire at Zappos, Nordstrom, SoftWalkShoes.com and Amazon. Runner-up: SoftWalk Rocklin.
Best for sensitive feet (bunions, hammertoes, arthritis, Morton's neuroma, neuropathy): Online reviewers with sensitive feet love the soft, supple leather of the Josef Seibel Faye 05–it conforms to toe bumps with no irritating seams. Plus, the almost flat one-inch heel makes it a good choice for anyone with knee problems. The Faye 05 fits snugly so it's recommended to order up if you're between sizes. One reviewer mentioned that she needed more arch support so added a Vionic 3/4 orthotic. The Josef Seibel Faye 05 is available in euro sizes 36-42 from Zappos, Nordstrom, and Amazon. Runner-up: Arcopedico N42.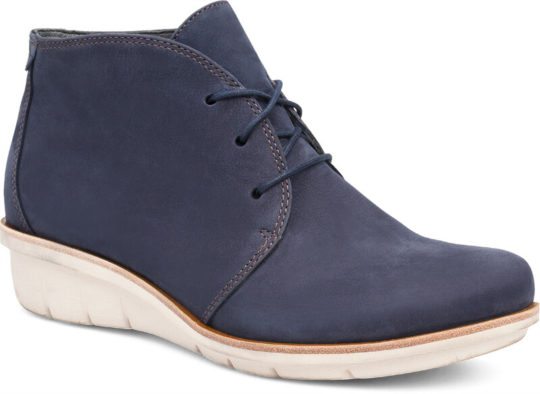 Dansko Joy
Best ankle boots for plantar fasciitis: This sporty-chic chukka boot by Dansko has all the comfort features needed for plantar fasciitis relief. The memory foam-cushioned footbed with arch support is cushioned and removable (should accommodate an orthotic). A lightweight EVA outsole provides excellent shock-absorption. Bonus feature: Scotchguard-treated nubuck! The Dansko Joy is available in euro sizes 36-42 from Dansko.com, Zappos, Nordstrom and The Walking Company. Runner-up: Naot Helm.
Best ankle boot for hallux limitus or rigidus: Do you love how the rocker sole of the Dansko Professional takes the pressure off your forefoot? Now you can experience the same rolling comfort in a chelsea ankle boot. The Dansko Frankie is new this season (but looks exactly like a Dansko clog boot I recall from over a decade ago). Not only does the rocker sole protect the big toe from over-flexing, the wide and high toe box provides room for toes to spread out. Find the Dansko Frankie at Dansko.com, Zappos, The Walking Company, and Amazon. Runners-up: Alegria Sitka ankle boot and Abeo Cayley.
Best heeled ankle boot for problem feet: Need a little lift? The Earth Pegasus is the perfect dress-casual ankle boot to give you an extra two inches in stature without compromising your feet. If you have a wider forefoot with narrow heel, we think you'll like the fit of this boot (room for bunions, but no slippage at the heel). The footbed is generously cushioned with good arch support. The Earth Pegasus is available in whole and half sizes 5-10, 11, 12, medium and wide widths from Zappos, EarthBrands.com, Nordstrom and Amazon. Runner-up: Rieker 50553.
Best waterproof ankle boot for problem feet:  The Romika Citytex 121 delivers waterproof protection in style–a great boot for city walking. This lightweight ankle boot features a removable ergonomic footbed and a soft waterproof suede upper. Online reviews note that the boot runs a tad narrow. Available in euro sizes 36-42 from Zappos, Amazon, and Nordstrom. Ruuner-up: Blondo Villa.
If you didn't see an ankle boot for your special foot need, take a look at some of our past reviews: