Slippers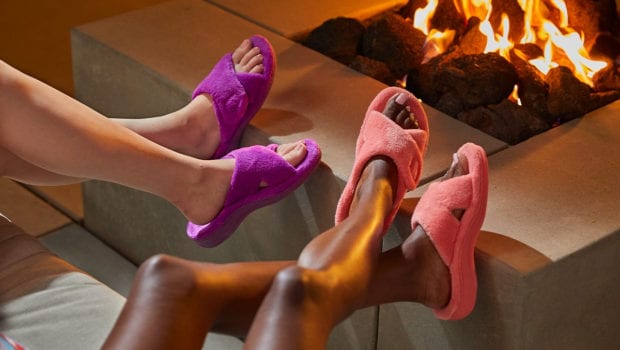 9 Most Comfortable Slippers: Best Slippers for Women
Whether you wear them with your robe in the morning, as a respite for tired feet in the evening, or all day around the house, chances are a pair of comfortable slippers is part of your footwear wardrobe.  As with any other shoes that see daily wear, it's worth finding ones that have features that make them comfortable and good for your feet. We set out to find a selection of the best slippers for women that offer good support, warmth and versatility.  We're huge fans of comfortable slippers and know from personal experience how great some of these brands feel.    Most feature indoor/outdoor soles and are great for year-round wear, so they get extra points for versatility.   Check out our picks of the best slippers for women and leave a comment if you have a favorite style of comfortable slippers – we love hearing from readers! Also, see our recent article about comfortable, supportive house shoes for even more ideas.
Best slippers for women – closed-back: The Giesswein Vent Lodge slipper is an "orthopedic experience extraordinaire," as described by a happy Zappos customer. A natural boiled wool upper keeps toes comfortably warm in winter but is breathable so you don't have to worry about overheating, even in warmer weather.
Slippers with Arch Support
If you need men's or women's slippers with arch support, look no further  – the best part about these Austrian-made slippers is their highly supportive, removable footbed. Keep it in for low to moderately high arches, remove and add your own orthotics for high arches. (The removable footbed also means they're machine washable!)  A slip-resistant waterproof outsole allows for a quick trip to the mailbox or a once-around-the-block with the dog. Be advised: this slipper runs small. I recommend ordering a size or two from your normal European size. Available in European sizes 36-48 and in seven colors for $134 from Zappos.
If Giesswein comfort features sound appealing but you prefer an open-back or bootie style slipper, click here to check out their full line of best slippers for women (some including cute patterns).
Best "shoe" slipper: Stegmann Original 108 clog. If you're a Stegmann owner, I don't need to sell you on their excellent support (including metatarsal pad), generous toe box and overall comfort – you understand. If you're new to the brand, read Kirsten's review for more information on this wonderful European brand.
Based on personal experience, the Stegmann cork and latex midsole with enhanced arch support and deep heel cup is just what my feet need to absorb the shock of wood floors while keeping plantar fasciitis flares to a minimum. The rubber traction sole allows me to walk confidently outside to bring the trash cans in or even venture out on a quick grocery run.
If plush cushioning is what you're after, you may want to consider one of our other recommendations. While the cork midsole is shock absorbing, there's a sturdy feel to these slipper shoes. Available in sizes 6-11 from StegmannUSA.com.
Best warmer weather slippers with arch support: Vionic Relax
My feet feel better just looking at these: orthotic footbed with deep heel cup and enhanced arch support, soft terry linings and straps, adjustable mid-foot closure for snug fit. Rhonda, a loyal Vionic customer raves, "I can't live without these slippers. I have a pair at work & 2 pair at my house & 2 pair at my vacation house. My plantar fasciitis is gone. Love 'em!"
Find the Vionic Relax in whole sizes 5-12. Best fits a medium to slightly wide foot. $64.95 from VionicShoes.com, Zappos, and Amazon.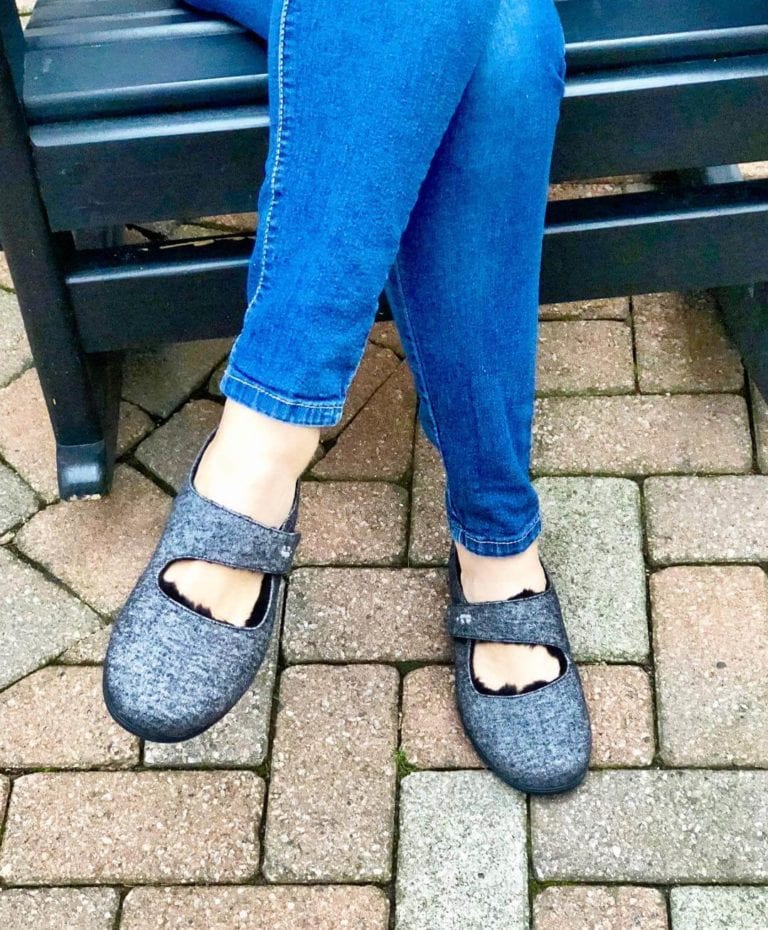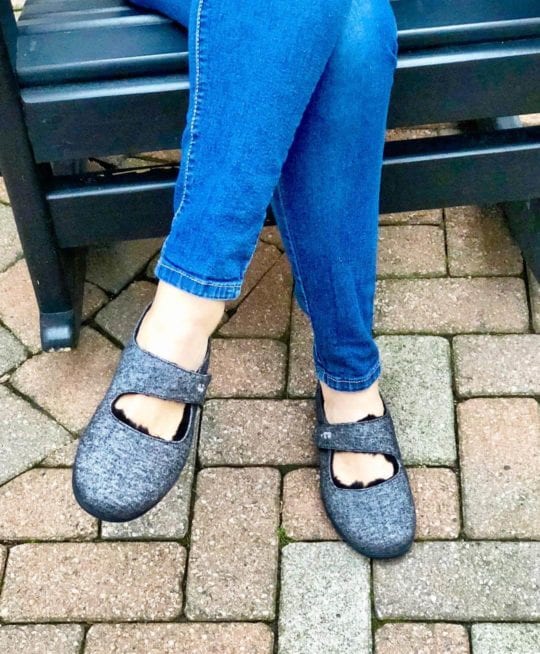 Best affordable slipper with arch support: Revitalign Oceanside
For $69.99 you get a slipper with enhanced arch support, adjustable instep strap, cozy faux fur lining and good traction! Keep in mind that the Revitalign Oceanside runs small, so order up! Available in six colors, sizes 6-12 for $69.99 from Zappos.
Another "not-too-hot" slipper with moderate arch support: Olukai Nohea slipper. Do your feet overheat uncomfortably in heavily-lined slippers? The Nohea slipper is lined with temperature-regulating sheepskin shearling for a cozy, not sweaty slipper experience! A removable merino wool insole offers moderate arch support and a "drop-in" heel allows converts the slipper into a slip-on. An added plus if you have balance or gait problems, the super-flat sole won't trip you up and allows your foot to feel the floor. Find the Olukai Nohea slipper in whole sizes 5-11 (order up if between sizes) for $119.95 from Zappos and Nordstrom.
Best slipper that doubles as a cute, stylish flat: Birdies "The Starling"
Have you heard of Birdies? They were originally designed as a stylish footwear option for home entertaining with comfort features like dual-layered high-density foam with moderate heel and arch support and a non-slip sole. Customers love the soft, cozy fit and feel of their Birdies, plus they're as cute as can be! Find Birdies in three styles, a variety of pretty colors and patterns in sizes 5-12 for $95-165 from Birdies.com.
Best supportive slippers for heel spurs (or when you can't stand anything touching the achilles area): Kuru Draft 
"I bought these cause I have heel spurs on both of my feet! I have hardwood floors in my house and it killed me to walk on bare floors. These shoes feel wonderful on my feet!" Take it from Kuru customers who've tried other brands and settled on Kuru for the relief of various foot issues: plantar fasciitis, heel spurs, achilles tendonitis and flat feet to name a few. Read more about Kuru's innovative KURUSOLE that hugs and cushions the heel area with each step. Find the Kuru Draft in whole and half sizes 6-12 for $105 from Kurufootwear.com.
Best orthotic-friendly slipper: Keen Howser Slide. What a cute slipper! A nice wide toe box accommodates bunions while a removable footbed allows for use of orthotics if necessary. A Zappos customer praises this slipper by Keen, "I struggle with mid-foot arthritis, plantar's issues and a heel spur, and while I've been told to wear orthotics 24/7, I hate wearing a heavy shoe all the time. I bought these because they have a removable insole, a slightly higher back for a slide, and a soft. They are great with my orthotics in and very comfy." The Keen Howser slide is available in whole and half sizes 5-11 (even the hard-to-find 10.5) for $80 from KeenFootwear.com and Zappos.
Best slipper slide: Therafit Scarlett. Therafit slippers carry the APMA (American Podiatric Medical Association) Seal of Acceptance for promoting good foot health. The Scarlett features a removable cushioned insole with arch support, deep heel cup for optimal alignment, and three removable comfort adapters in the wedge. Find the Therafit Scarlett in sizes 7-12 for $149.95 from Nordstrom. See the entire collection of Therafit slippers here.
What are your most comfortable slippers? Leave a comment below or visit our Facebook page to join in the discussion about the best slippers for women.  Also – this isn't the first time we've talked about slippers. Check out our other reviews here.
SaveSave
SaveSave
SaveSaveSaveSaveSaveSave
SaveSave
SaveSave
SaveSave
SaveSave
SaveSave
SaveSave