Best Shoes for Bunions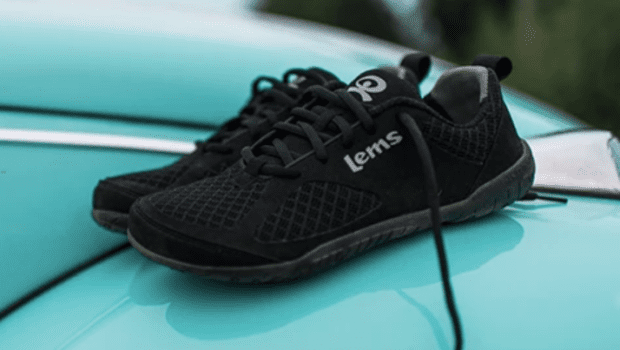 Published on March 10th, 2021 | by Kirsten Borrink
26
Lems Shoes : Living Easy and Minimal in Foot-Shaped, Zero-Drop Footwear
Lems shoes originated in the curious, creative mind of a college athlete back in 2010. Disenchanted with confining, injury-causing footwear, Andrew Rademacher set out to create a kinder, gentler shoe. Andrew spent the next three years dedicating himself to the art and science of shoemaking. He arrived at the belief that footwear should be built around the natural shape of the foot–widest at the forefoot and toes to allow for unrestricted movement and flexibility. After dozens of prototypes and much blood, sweat and tears, the original Primal sneaker was released by Lems shoes in 2011.
I'm honored that the kind folks at Lems reached out to see if I'd review one of their top-sellers. I chose the Primal 2, a casual sneaker with a low profile silhouette–perfect for walks on our local prairie path, running errands and participating in my favorite NIA classes at the gym. The Primal 2 features the natural, foot-shaped toe box that defines Lems shoes. My toes are free to spread out without fear of being cramped together like sardines. You know the feeling of having the king-sized bed to yourself? It's like that–sweet freedom (especially for those pesky bunions, hammertoes and neuromas). The rest of the shoe follows the natural shape of my foot, skimming my mid-foot and tapering to a snug fit at the heel.
If you like feeling one with the earth's surface, you'll enjoy the ride in Lems shoes. My Primal 2s (along with the rest of the Lems collection), are built on a zero-drop platform. The thought here is that traditional footwear elevates the heel .5-1.0 inch throwing off the alignment of the spine. Zero-drop, on the other hand, places the forefoot and heel at the same ground level correcting posture and promoting a more natural gait. In fact, there's research out there that recommends flat, flexible footwear for decreasing the load (force) on osteoarthritic knees. Lems shoes to the rescue!
Some of you are wondering by now, "But what about the arch support?" As you can imagine with minimalist footwear, it's…well, minimal. The insole isn't built up in the arch, however there is a natural upward curve in the outsole that follows the arch, so that's something. But keep in mind this is a roomy shoe with a removable insole which makes it accommodating of your favorite insole to enhance arch support. I added my favorite Tread Labs with no problem.
Lems shoes are incredibly lightweight, weighing in at 6.9 ounces (the same weight as a hamster in case you've held one of those). I've been looking for a super-lightweight, barefoot-feel shoe to wear at the gym for NIA classes (a shout out to NIA which incorporates free-flow dance, martial arts and yoga-inspired moves–so easy on the joints). Most members go barefoot, but I need something between my feet and floor, but a traditional fitness shoe is too thick. Enter the Lems Primal 2!
More things to love about the Lems Primal 2:
The upper is made of soft microsuede and breathable open-weave mesh (great for feeling the wind between your toes).
You can hand-wash the Primal 2 by taking the insoles out and giving them a bath in luke warm water and mild soap (and if you need replacement insoles, they're available here).
The Primal 2 is vegan from top to bottom.
A word on sizing: I'm wearing a Lems size 43! I know that sounds impossibly huge, but a women's size 10-10.5 equals a Lems size 43 (instead of my usual euro 41). I do find the Primal 2 to be a tad roomy, but that's because I'm on the smaller size of 10.  The Lems Primal 2 is available in women's sizes 4.5-12.5 (37-45) for $105 with free shipping. Check out Lems men's footwear here.
If you like the concept of zero-drop minimalist footwear with a wide toe box but need an office-appropriate style, consider the new Lems chukka boot,  Lems Nine2Five leather oxford or the slightly more casual Lems Mariner boat shoe. While you're at it, take a peek at Lems "other gear" for super soft t-shirts, Correct Toes toe spacers, and cool beanies! Still have questions? Check out their exhaustive FAQ page.
Do you know about Lems shoes? I'd love to hear your thoughts. Leave me a comment and LEMme know.