Orthotics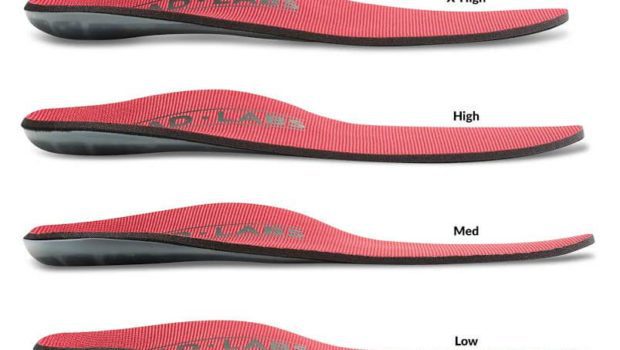 Tread Labs Orthotic Insoles in 4 Arch Heights [Review]
A few months ago, Mark Paigen of Tread Labs reached out to see if I'd be interested in trying out a pair or two of his new arch-specific orthotic insoles. I receive requests like this weekly, so almost let the opportunity pass. But something caught my eye in his initial email that made me pause and reconsider. Mark is the founder of Chaco: the most supportive sport sandal on the market today (diehard Chaco fans swear by the aggressive arch support, adjustability, overall durability…and of course, the cool Z-strap tan lines). We scheduled a phone call, and I realized I was talking to a comfort footwear rockstar.
Tread Labs is Mark's newest venture: orthotic insoles with medical grade support that come in four arch heights. Brilliant! Each Tread Labs insole feature a two part system: a molded arch support and a replaceable foam top cover. The molded arch support is guaranteed for life–if they crack or break, Tread Labs will replace them for no charge. If the top covers wear down, you can replace them for $15 (they have super-nifty velcro adhesive that attaches to the arch support). Tread Labs stands by their product: you have 30 days to wear them around and if you're not completely satisfied, you can send them back for a full refund!  Hop on over to the Tread Labs site to read more about what makes their orthotic insoles so unique.
I've been battling a bout of plantar fasciitis in my left heel for about a half year. I visited a well-respected podiatrist in the area and he gave me stretches to do, a prescription of Voltaren and recommended soaking my feet in warm then cold water nightly. I appreciate his conservative treatment, but I decided to add a few steps to the doctor's orders.
I added a pair of Tread Labs "Stride" high arch orthotic insoles to my three-year old Asics (after removing the generic insole it came with). I've tried other insoles in these exact shoes, but nothing fit as well and felt as good as Tread Labs. I like how the deep heel cup cradles and centers my heel while the molded arch support helps my natural medium to high arches support and distribute my weight as I exercise. These are a winning combination of structure and cushioning (the top cover features open cell polyurethane foam lasts five time longer than common EVA foam).
After three weeks of doing the work the podiatrist ordered and wearing my Tread Labs Stride insoles, I started to notice some relief in my left heel. When I wasn't wearing my Asics with added Tread Labs, I wore an unlikely combo of Physix Gear Sport plantar fasciitis socks in hot pink with my blue Birkenstocks around the house. I truly think this crazy combination of stretches, occasional pain reliever, nightly soaks, correct insoles, socks and Birks is healing my PF. I even put my new Tread Labs into a pair of ballet flats to give them a little more support–see here! 
Mark was kind enough to send my flat-footed husband a pair of Tread Labs to try. He chose the low arch option and replaced the beat-up insole in his favorite pair of Merrell slip-ons. Here's Chris's review:
In the winter months, my five-year old Merrell clogs (similar style) become a staple for me in and around the house. The nicely worn brown leather and black fleece lining provides comfort, warmth and convenience. So when the clogs started feeling their age and no longer supported my flat feet and over-pronation, I needed a solution if I was going to still keep them around. When I initially placed the Tread Labs insoles into my shoes, I was skeptical. But they settled in right away, fit like a charm, and now provide the support I need. What do you know? I even bought some brown shoe polish to shine up the old Merrells and give them new life.
Because of my foot condition, the Stride Men's 10-11.5 Low were the perfect match. Unlike other cheaper alternatives, I can tell these supports are solid and feel right at home in my old clogs.
Thanks, Chris! So readers, if you're interested in trying a pair of Tread Labs for yourself, take their "Find your Fit" five-question quiz to see which Tread Labs orthotic insole will serve you best. You can follow Tread Labs on their Facebook page and Twitter page.
I'm interested in hearing from you, readers. While we mainly talk footwear here at the Barking Dog, orthotics can breathe new life into our shoes. Which insoles and orthotics do you like? How have they helped you? Leave a comment and help the Barking Dog community!