Comfortable Boots for women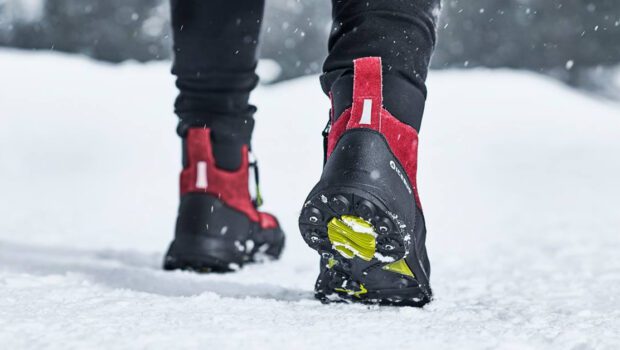 Published on January 24th, 2023 | by Kirsten Borrink
11
Icebug Boots for Safety on Slippery Surfaces

The Icebug Ivalo-L with BUGrip is a fascinating little boot. Yes, it's lightweight, warm, roomy in the toe, and offers good support but more than all that–the BUGrip traction system is unparalleled. I've traded my Sorels in for these Icebugs as my chief dog-walking boots. I can't risk a fall with a shoulder replacement and iffy RA joints. This harsh Chicago winter has plunged us into sub-zero temps weekly and the streets, sidewalks and hiking trails have an icy sheen to them from repeated meltings and re-freezings. Yet, my Icebugs are ready to BITE!
The 16 carbide tip studs on the sole of the Icebug Ivalo boot dig into the iciest of terrains keeping me in a secure standing position instead of on my bum. The studs work independently of one another and are not fixed–I call them "cleats" in my video, but they're cooler than that. I can actually move them around.  See a video showing these "dynamic studs" in action, along with a lot of Swedish.
The upper of the Ivalo-L boot is made of ripstop nylon and suede with a soft fleece lining. It's water-resistant and comfort rated to -5 degrees Fahrenheit. I prefer to wear them in temperatures over 20 with a pair of thick socks. The forefoot is plenty roomy to accommodate bunions and hammertoes–and extra thick socks. The ESS shank (which I believe is a lightweight yet durable material) provides torsional stability which keeps the sole from twisting at the midfoot. The cushioned footbed is removable to accommodate a personal insole or orthotic. 
The only drawback to my new Icebugs is the crunchy sound they make while walking on dry sidewalks or tile. I'm pretty sure they'd mark up a wood floor in no time, but I always kick mine off when I come inside. The Ivalo-L is a good choice for casual walkers who want to exercise in the winter or for the commuter who navigates icy pavement on the way to work. 
The Icebug Ivalo-L with BUGrip runs true to size and would best fit a medium to wide width foot. Available for $219.95 from Icebug.com. Update: this style is hard to find, but I highly recommend the newer Icebug Metro 2 boot with the same 16 carbide tips seen below.