Comfortable Shoes for Men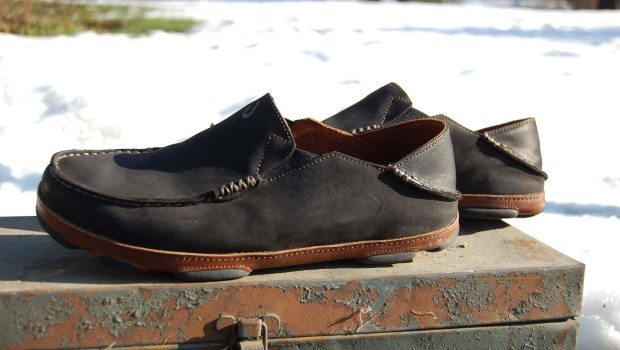 Published on May 8th, 2020 | by Kirsten Borrink
13
OluKai Moloa – Relaxed, Versatile Slip-On Shoes for Men
OluKai Moloa is a great looking, supportive and versatile shoe. As a man, I don't have a ton of shoes that I wear often – you know the variety:  dress shoes for the office, casual shoes for the weekend, workout shoes at the gym. If you are a guy and have more than this type of variety, then I can't relate to you. Just kidding – I can, but you certainly are more diverse than me!
OluKai is a pretty cool brand. As they describe themselves, "OluKai believes that everybody, no matter where they are, can live aloha." And by "aloha" they mean, the action of giving without any expectation about receiving. That's not a bad way to live life in general, and works in many settings. For the past couple years I've run a consulting business and find that this can work to your benefit if done properly. Keep giving value…people will pay attention to you.
Quick disclosure – Footwear Etc. sent me these shoes to review. Nothing says Merry Christmas like a new pair of shoes! So thank you! The brand is one I could get into for a couple reasons. Stay tuned.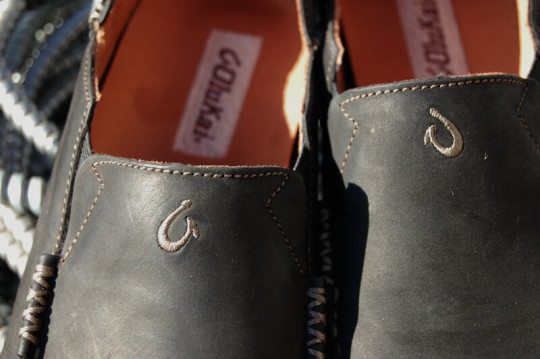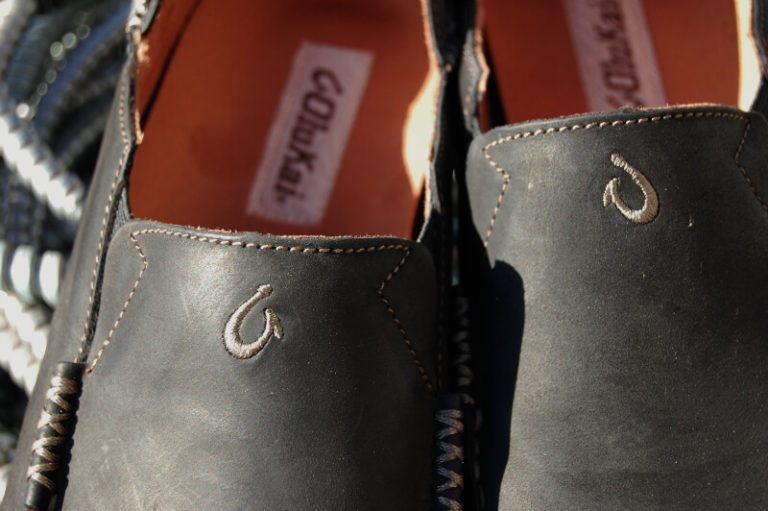 When do I wear them?
As a Sales/Marketing consultant and part owner of a tech start-up, I spend a lot of time working from home. And when you work from home it is incredibly important to get on your feet, stretch a lot, and get out for some walks throughout the day. So that's where you'll find me, heading out on the Illinois Prairie Path for a few walks a day with Harley, our Wheaten Terrier. These shoes feel great on sidewalks, grass or the uneven surface of a gravel path. The arch support and warmth of materials make this shoe easy to wear in the unpredictable climate of the Midwest.
No issues wearing these in a semi-casual environment either. Dress it up with a sportcoat, jeans and button down oxford and the look is very smart.
What size?
The OluKai website has a nice guide to help you with sizing. If you aren't sure what you should choose, take a look. For me, I'm a 10.5 wide body, and know I have flat feet with a over-pronating problem. Kirsten has touched on the over-pronating issues before – like this review on some great walking shoes for problem feet.  As she has told me time and time again, I had to have something with significant arch support or fear of riding those babies to the ground.
Materials
Premium grade leather is how the brand describes the main materials, with an "antiqued nubuck leather." Mine is in black/toffee but you'll see from the selection, there are 10 different color combos – incredible.
Henna/Toffee
Storm Grey/Dark Wood
Tobacco/Tan
Ray/Toffee
Seal Brown/Seal Brown
Rum/Toffee
Black Olive/Seal Brown
Black/Toffee
Dark Wood/Dark Java
Clay/Mustang
Versatility
Most guys who like cars often will look for the model that can suit various needs. For me it was always about the Saab 900 Turbo 3 door. Fast, turbo-kick-in-the-back-fun to drive, but put the back seat down and you can haul your grandma's love seat across the country. 
These shoes have some interesting versatility as well. Keep the back flap up and they keep pace with any $300 Italian loafer in the office. But put the back flap down, and you can slip them on in the mudroom on your way to wash the car or run an errand. If you are like our family, the mudroom seems like the staging environment for coming in and out of the house. Clogs like this model from OluKai will see me coming and going all winter.
How do they feel?
These slip-ons fit right away – no break-in period necessary for me. At first they were a little warm in socks and I had to get used to the way the shoes kept in the warmth, but I got used to it with no problem. The arch support was noticeable immediately. I always appreciate a pair of shoes that tell me they are supporting me from day one. My Brooks running shoes do the same thing and have held up well. And so far after wearing them for a few weeks, the OluKai Moloas are holding up just great.


As mentioned above,  the flexible flap that turns this shoe into a clog is an innovative feature, and generally I'm a fan. Though, when I put the shoes in the clog "mode," you can always feel the flap beneath your heel. Not to worry, I haven't felt any pain at all when keeping the flap down, but this feature might be a drawback if you wear them for any length of time.
What are others saying?
Here's a classic review that I can relate to on FootwearEtc.com:
This is my first experience with Olukai and I am a quite satisfied with my purchase. The Moloa fits great for a slip on; not too tight, not too loose. There is some elastic goring on the instep that keeps your ankle stable and snug. The inside is lined with soft material and the removable insole is extremely padded. More than any standard foot bed to which you have grown accustomed. There is also a neat little feature that allows the heel to bend forward and then this slip on becomes the ultimate slip on…no back heel needed. The shoe upper is constructed with a soft, weather resistant leather. I purchased the Black Olive/Seal Brown and the sole is two toned. Really makes it look nice once worn.    The bottom of the sole also has raised rubber pads which alleviate pain from hard walking surfaces. I am in love with this Hawaiian brand and will be back for more. Aloha for now. 
Where to buy the Olukai Moloa?
Olukai.com, Zappos, and Amazon.
Have any of you, or the men in your life worn the OluKai Moloa's? While BarkingDogShoes.com is primarily a website that reviews comfortable shoes for women, are you interested in reading more about men's shoes? Let us know in the comments below.