Comfortable Clogs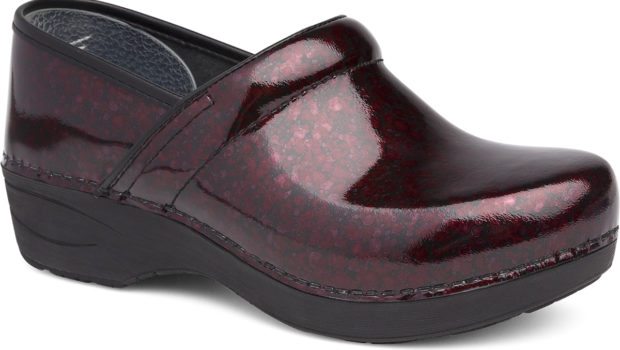 Published on October 16th, 2017 | by Kirsten Borrink
4
The DeLIGHTful Dansko Pro XP 2.0: Updated and Improved
Are you conflicted about your Dansko Professional clogs? Your feet crave the arch support, but the footbed is too hard. You love the roomy toe box, yet the clog feels heavy on your feet by the end of the day. End the conflict and find perfect harmony for your soles in the Dansko Pro XP 2.0.
Teachers, medical professionals and anyone else on their feet all day should know about the Dansko Pro XP 2.0. The lightweight construction helps to alleviate foot and leg fatigue. This is accomplished with "coring holes," which are exactly as they sound–cored out holes in the midsole to reduce the overall weight of the clog. Brilliant! To further reduce the overall weight of the clog, a lightweight EVA outsole replaces the PU outsole of the Professional.
Now for the special sauce that truly differentiates the Pro XP 2.0 from the Professional: a removable, dual-density polyurethane foam footbed. Take it out and replace with orthotics if need be, or leave it as is for outstanding cushioning and shock-absorption. The footbed includes Dansko Natural Arch technology™–a TPU arch stabilizer for exceptional support.
Recent reviews of the Dansko Pro XP 2.0 are overwhelmingly positive with 23 reviewers awarding the clog 4-5 for comfort and quality (out of 27 reviews).  We also notice that this Dansko style has sleeker, slimmer styling than Dansko Professional clogs, yet still has ample roominess.  This might appeal to those who want Dansko comfort, but desire a less clunky look.
We wanted some first-hand feedback, so we turned to our friend Robin, a busy chiropractor who for the past 17 years has helped children and adults live healthier lives (learn more about her practice at Balance Family Chiropractic). Like many healthcare professionals, Robin spends 10-12 hours a day on her feet and often experiences foot pain.  She admits that finding comfortable shoes is a challenge.  Robin says she appreciates the high level of comfort, arch support and cushioning of her Dansko Pro XP 2.0 clogs, and notes that she experiences much less foot tenderness while wearing them.  She says, "The reduction in foot pain was remarkable, even after a long day."
Here's another rave review from a The Walking Company customer in the hospitality industry:
I've been a server for over a decade and have always worn the Cabrio Professional. Paired with my compression socks, my feet rarely hurt. However, after walking upwards of 10 miles per shift (yes I checked with a pedometer) any additional help is gratefully appreciated. My body still aches after a busy weekend. I decided to try out the new, lighter version and am SUPER thrilled that I did. Yes, they are more expensive, but I've learned that preventative measures are far less costly than reparative! My steps are lighter and I notice I carry myself differently when I walk in this lighter version. I also appreciate the cushy insole included in the show already. My feet are MUCH happier. The only thing I noticed is that my size 37 seemed *slightly* roomier than my old Cabrios tended to be. I was worried they were too big, but once my feet swelled a little, I was happy for the extra room. I definitely recommend this newer version!
We've tried on the Dansko Pro XP 2.0 and think they feel great!  Have any readers tried them?  Do you agree with the great reviews?  Please share your thoughts, we love hearing from you!
The Dansko Pro XP 2.0 is available in 8 colors/patterns in euro sizes 36-42 at The Walking Company and Zappos.
Are you a Dansko aficionado? We think you'll enjoy our page dedicated to the brand and their best styles.