Comfortable Sandals
Published on July 2nd, 2014 | by Kirsten Borrink
18
Vionic Tide Sequins Review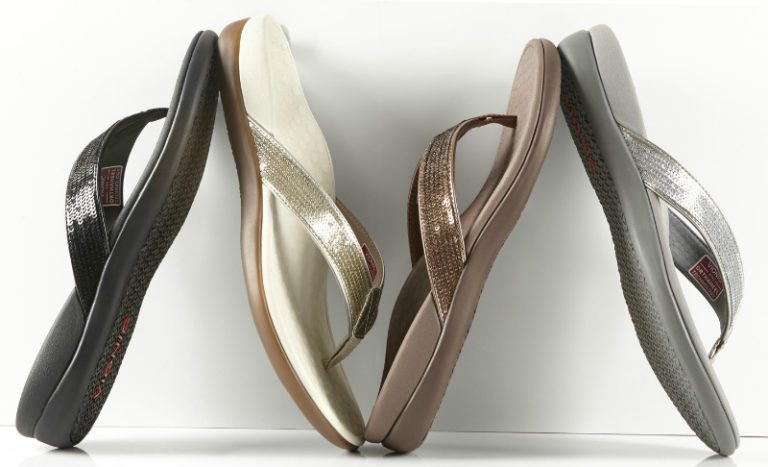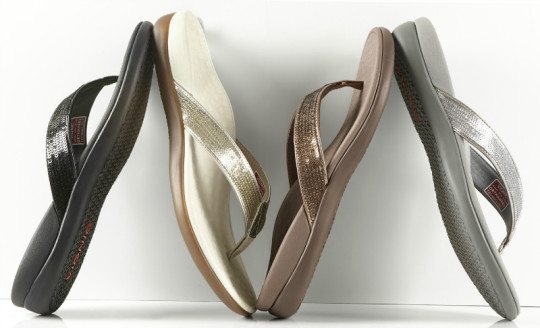 I remember visiting friends in Little Rock, Arkansas last summer and noticing many women in sparkly flip-flops. Tweens, teens, their moms and grandmas–everyone had sparkly flips. I thought, "Is this a thing in the south?" Had I become callous to glitter in my sensible midwest surroundings? Was I growing too old for such frivolity? Perhaps. But when I saw these sparkly sandals by Vionic at the local comfort shoe store, I kicked off my humdrum Birkenstocks and ordered up a pair of silver sequined Vionic flip-flops in size 10. While I waited for the spunky sales associate to return, I contemplated the placement of the Vionic display–not prominent, off to the side, high on a shelf. Maybe they're not  as great as I've read about online? When my shoes arrived out from behind the curtain and only slightly faster than Zappos, I noticed my enthusiastic associate brought me a 9 and a 10 since the Vionic Tide
Sequins comes in whole sizes only. I told her that I didn't need the 9, that I'm a 9.5-10, she encouraged me to try the 9 first because they run large. She was right. I bought them. The display should be front and center.
The size 9 fits my 9.5-10 size foot perfectly with no unsightly heel or toe overhang. The arch support takes a little time to get used to.   The footbed is like an orthotic, cradling the heel, pushing the arches and ankles back into normal alignment giving a therapeutic feel to the sandal. My arches have lowered due to the effects of living with RA for 17 years, but the Vionic Tide Sequins lifts them right back up. The EVA midsole absorbs shock and provides cushioning.  My feet, ankles, knees AND lower back feel good when I'm wearing my Vionics.
The toe post was my only concern. It felt stiff at first between my toes and caused some uncomfortable rubbing. But after wearing them for a week, the toe post softened and now I don't even notice it.
I don't consider myself glamorous, but I've had fun seeing these sparkly flips on my feet this summer. I wear them to the pool, out on errands and even to church.
I hear they're wonderful for plantar fasciitis, but thankfully that's not one of my top foot issues. How about you? Do you wear Vionics to help alleviate pain from PF? Leave a comment and let us know!
The Vionic Tide Sequins is available at Zappos, Amazon, and Nordstrom.