Comfortable Sandals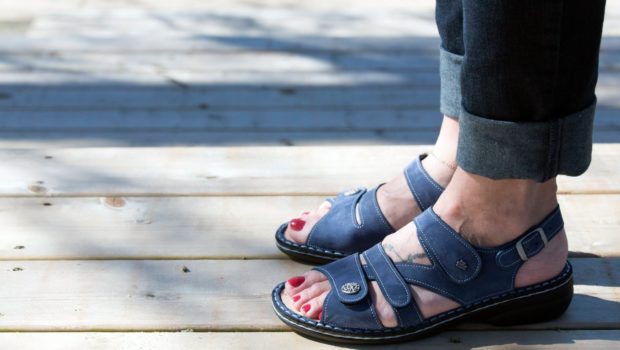 Finn Comfort – Promising Shoes for Foot and Joint Issues
Let's just come out and admit it: Finn Comfort sandals aren't the sleekest shoes on the shelf. But in the quest for the perfect shoe for problem feet and joints, many have found relief in German-made Finn. With soft removable insoles that support both the lateral and medial arches, deep heel cups and shock-absorbing outsoles, Finn Comfort is a brand you should know. You may call them grandma sandals, but here's a review of Finn Comfort sandals by one of the hippest grandmas I know, Kathy M. 
The Finn Comfort Phuket Sandal is a great, well made, but pricey shoe.  The downside of Finn Comfort is that they are not always very stylish, but I like the Phukets because they are comfortable and stylish as well. I purchased them last summer in black patent leather and have found them to be very versatile (you can wear them with jeans or a skirt).
I have had knee and hip replacements and a lot of foot and back issues, so a comfortable shoe is a must for me.  I chose Finn for their reputation for being a well made and comfortable shoe.  A big plus for these shoes is that they have an adjustable toe and velcro top strap.  However, the toe piece hits about half way between the curve between the toes and the end of my toes.  Since I can adjust the top strap, they still stay on well and it isn't a big problem.  They run true to size.  They have great arch support, a removable foot bed, and I find that I can wear them comfortably all day.
Although they are quite expensive, if you have a lot of foot and joint issues, as I do, Finn Comfort sandals are well worth the price!
The Finn Comfort Phuket sandal is available for around $170-$220 from Amazon, Zappos, Happy Feet Plus, The Walking Company, Shoebuy, FootwearEtc.com and FinnComfort.com (where you can find a store locater).
If you prefer a sandal with multiple adjustable straps for a customized fit, consider the bestselling Finn Comfort Gomera pictured below.
Great feedback from clients who traveled Europe in beautiful comfort wearing Finn Comfort sandals #YourFeetOurHandspic.twitter.com/l3kH72AXip

— Strides Pedorthics (@StridesBC) May 12, 2016
The Gomera sandal features four adjustable straps for a secure fit. The forefoot strap covers the bunions without irritating them since the leather is of high quality and super soft. I recommend the Gomera for relief from plantar fasciitis with its low 1 1/2″ heel, excellent arch support, deep heel cup and secure back strap. Available in eight colors in euro sizes 35-43 (5-12.5) for $255 at Zappos, Nordstrom, OnlineShoes.com.
Finn Comfort sandals are also available in rocker soles such as the Sausalito.
I realize Finns are pricey shoes. Try 6pm.com,  Amazon, and Happy Feet Plus and eBay for discounted styles.
Do you have a pair of Finn Comfort sandals or shoes? What do you like about them? Do they relieve any foot conditions? Any concerns? Leave a comment and help our readers out! Thank you.