Comfortable Women's Flats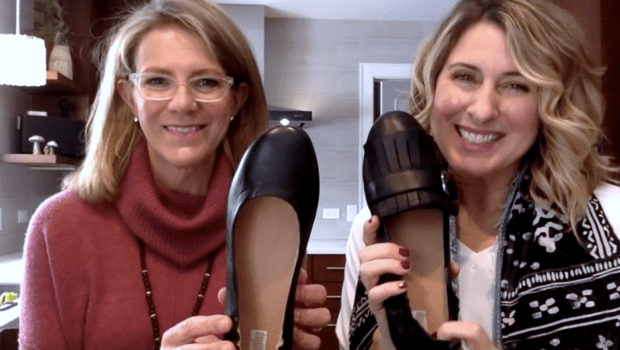 Published on August 7th, 2022 | by Kirsten Borrink
6
Fitflop Ballet Flat : Presenting the Chic, Streamlined Allegro
A Fitflop ballet flat to beat all! That's the Allegro. The company recently released this slim, chic beauty and the fans are going wild, including us at Barking Dog Shoes. We appreciate Fitflop for sending us the Allegro and Allegro fringe to review. With spring around the corner, we're looking forward to shedding our wool socks and slipping into something more streamlined.
Beth and I tried our hand (foot?) at a video review. We're noobs, so don't have professional lighting and sound equipment, but we understand comfortable shoes. We'll keep trying til we get into the groove of video reviews.
What we like about the new Fitflop ballet flat, Allegro and Allegro fringe:
Roomy forefoot makes it bunion-friendly
Elasticized heel prevents slippage
Good cushioning from toe to heel considering it's a flat
Flexible and lightweight
Classic style goes with everything
A few things to consider before ordering:
Only three half sizes. Kirsten's 10 in the Allegro fringe feels a tad roomy, perhaps order down a half size if you're on the smaller end of your size.
Arch support is moderate. While the footbed is removable, we're not sure if this low profile shoe would fit an orthotic.
Best for medium to wide feet, not for narrow widths!
The Fitflop Allegro ballet flat and variations (with straps or fringe) are available in sizes 5-11 (three half sizes), for $110-130 from Fitflop.com, free shipping and free returns (full price items only).
Love the Fitflop brand? So do we! See more reviews of one of our favorite comfort-meets-style brands here.
We love to hear from our readers. Do you have a pair of Fitflop shoes that you love? Leave a comment and let us know.