Comfortable Sandals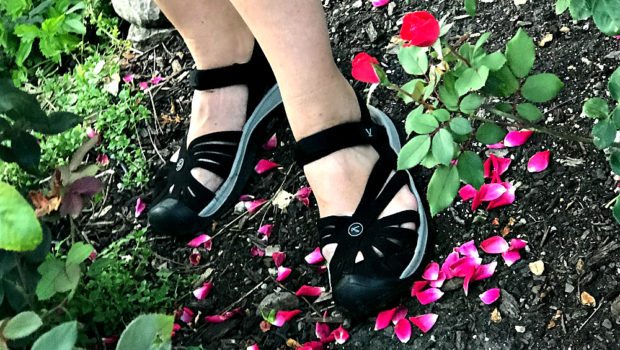 Published on February 7th, 2023 | by Kirsten Borrink
8
Go Exploring in the Keen Rose Sandal Come Rain or Shine
This review of the Keen Rose sandal  is sponsored by KeenFootwear.com. The opinions are completely my own based on experience.
I've never thought of Keen sandals as pretty–cute maybe, outdoorsy for sure, but not pretty. But the Keen Rose sandal is prettier than most sport sandals on the market, yet can be tough when needed.
I took my new sport sandals on a week-long camping trip to Manitoulin Island, Ontario two weeks ago. While we headed north, the weather turned south. Gale-force winds buffeted our tents and white-caps crashed across the normally serene lake right outside our tents. Needless to say, I was happy to have a sandal that could take on the wet conditions. I brought them into my tent each night and they were dry by morning, no harm done.
The soft polyester-microfiber straps and wide toe box make a perfect combination for sensitive feet: my bunions and hammertoes rejoice–no blisters, no irritation. And the asymmetrical strap pattern resembles the petals on a flower–hence the name of the style.
Depending on whom you ask, you'll get varying opinions about the footbed support of the Keen Rose sandal. Many with flat feet comment that the support is spot-on–not too high to aggravate, not too low to allow over-pronation. Since I have relatively high arches (and a fusion of my talonavicular joint), I found the arch support a bit too low for my needs–at least for all-day wear. But scan the reviews at KeenFootwear.com to help make your decision as to whether the Keen Rose sandal will provide enough arch support for your feet. I think we'll all agree that the EVA footbed and midsole provide excellent cushioning for heel and forefoot.
\Keen Rose SandalThe signature Keen toe bumper isn't as bulky on the Rose as it is on other Keen sandals. This enhances to the overall feminine look while still providing much-needed toe protection on hikes.The velcro instep strap provides a secure fit, but I found I needed to loosen it during the day as the tops of my feet are sensitive.
I took the Keen Rose on a few short hikes in between rain squalls and found the traction to be good across rocky and wet terrain. And I still wear them around town to grocery shop, attend the kids' sporting events, go for a bike ride…even out for a casual dinner. What a versatile little sandal!
Sizing is true and best fits a medium to wide width foot. Available in whole and half sizes 5-12 (yes, even the elusive 10.5) for $120 from KeenFootwear.com, Zappos and Amazon.