Comfortable Heels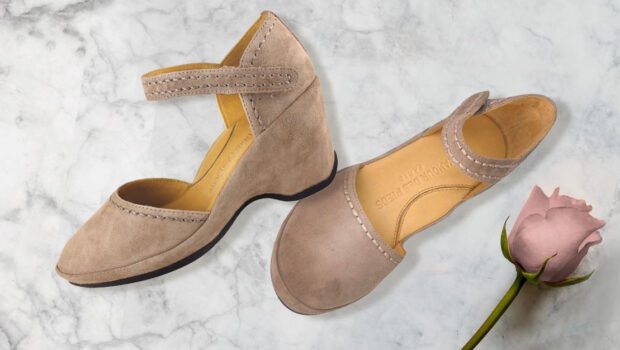 Published on February 10th, 2023 | by Kirsten Borrink
1
L'Amour des Pieds Orva Wedge: A Heel for Non-Heel Wearers
The L'Amour des Pieds Orva is for all you "I can't wear heels" people out there. Never say never.
This versatile sculpted wedge beauty by L'Amour des Pieds (the love of feet) is winning over many women with problem feet. You may be next.
Women with a variety of foot issues love this stylish ankle-strap wedge. A roomy toe box accommodates bunions and a wider forefoot while a cushioned footbed offers moderate arch support. Nordstrom customers rave about the Orva by L'Amour Des Pieds:
"The craftsmanship, leather and yummy comfort is wonderful with extra attention to the arch support and shoe lining. While this style provides height, they also lend good stability and are quite pretty."
"I bought these shoes because I do 10 conferences a year, and between my sciatica and plantar fasciitis, circling a 1500 square foot piece of concrete is torture 12 hours a day. I needed shoes that would take some abuse, look cute and keep my pain manageable and these foot the bill. They have great arch support, good shoe integrity, and tons of toe cushion. I will buy more from this brand."
The L'Amour Des Pieds ORVA wedge features a 2.75″ heel with 1″ platform and is available in sizes 6.5-11 for $199 from Zappos and Nordstrom.