Comfortable Sandals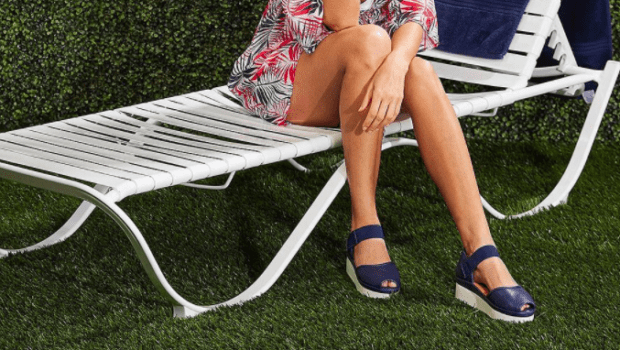 Published on June 13th, 2023 | by Kirsten Borrink
16
6 Stylish Sandals for Hallux Rigidus | Reader Request
Hi, I'm looking for something that possibly doesn't exist. By the end of last summer, my foot was killing me, and I finally took it to the doctor. It was diagnosed with Hallux Rigidus. I've swapped out my dress shoes over the winter for those with strong arch support, roomy toe boxes. When the weather gets warm, I like to get pedicures and usually switch to peep toe shoes that are flat or with a slight heel for work. (I'm 5'11", so I don't like much heel.) I can't wear any of these shoes anymore because they have no arch support, and some rub across the top of my big toe joint. I've looked around a bit, but can't seem to find what I'm looking for. Dressy-ish, low-heeled to flat, open- or peep- toe shoes/sandals.
Sandals are ok, but I'm usually trying to cover up a side bunion on the other foot. Platform sandals might be OK if the heel height isn't much higher than the toes which isn't more than 1/2″. Do you have any ideas?
Dear reader,
Hallux Rigidus (big toe stiffness and pain) only worsens with flexible forefoot shoes, as you know. I'd like to tell you to stay in closed-toe footwear with a special insole to limit the motion of the big toe joint, but you're asking me for sandal recommendations. I completely understand–just because you have a bum big toe, doesn't mean you've given up on stylish, season-appropriate footwear. Let me recommend sandals with a sturdy forefoot, good support and straps that will cover your bunion (see the last pick for an orthotic-friendly choice).
A newer addition to Dansko's sandal collection, the Kandi features a bio-based (sugarcane) EVA footbed that's lightweight yet durable. A mild rocker outsole takes pressure off heel and forefoot through the stride. Two adjustable straps allow for a customized fit. Find the Dansko Kandi in euro sizes 36-42 (6-11.5) for $80 from Dansko.com, Zappos and Walking Co.
The Alegria Verona tops the list of our favorite hallux rigidus sandals. Take it from Zappos customer Judith:
The first time I wore these I stood for 7 hours straight tending bar. I have arthritis in my big toe (hallux rigidus) and these sandals were so comfortable, I felt no pain. They are cute and can be dressed up or worn with casual outfits.
The Alegria Verona features a supportive cork/latex/memory foam footbed, three adjustable straps and a mild rocker outsole to take pressure off the forefoot through the gait cycle. Find the Verona in euro sizes 35-42 (5-11.5) for $109.95 from Zappos and Nordstrom. Find a deal on the Alegria Verona at Amazon.
A member of our Facebook community recommends the Parallel line of platform wedges by Skechers. She states that the rise from toe to heel isn't overly pitched, and the rigid sole protects the tender big toe joint. The Parallel line includes stylish wedges sandals and ankle booties. The affordable price point adds to their draw! Find the Skechers Parallel line in sizes 5-11 for $40-60 from Zappos and Amazon.
This is a fantastic sandal in every way: moderate arch support, thick platform sole with slight forefoot rocker, excellent cushioning and shock absorption–plus, it's just plain cute. The Amadour sandal by L'Amour des Pieds (the love of feet), will keep that pesky big toe joint stable while taking care of other foot issues like plantar fasciitis and bunions (soft forefoot strap covers them without irritation). Find the L'Amour des Pieds Amadour in sizes 5.5-11, medium and wide widths for $199 from Zappos, Nordstrom and Amazon.
Another great recommendation from the Barking Dog Shoes Facebook community! The Taos Trulie comes recommended by Joanna who says this about her favorite hallux rigidus sandals:
I've worn them for 4 summers now–they make my feet feel so good, and the arch support is great. Good for walking a lot. Adjustable front strap misses the big toe joint.
Happy Zappos customer AMD also recommends the Taos Trulie for relief from hallux rigidus:
I bought these because I have arthritis in my big toe and finding comfortable sandals is a chore. Knowing I would have to spend more money to manage this issue, I reluctantly purchased my first pair four years ago. I am happy to report that I am in love with these sandals and have been able to wear these as my main summertime shoe without issue. Recently, I purchased other styles of sandals in other brands to replace these as they are now looking well-loved but I found that I had to pull my Trulies back out of my closet to get my arthritis pain to settle down again. I will be buying these until they no longer stock them. I will note that I did have the Velcro replaced at a shoe repair store after my second season because I wasn't ready to part with them and the rest of the shoe was in wearable condition. It was worth it!
Find the Taos Trulie in euro sizes 36-43 (5.5-12) medium and wide widths (in some sizes) for $160 from TaosFootwear.com, and Zappos.
Made from proprietary OOfoam®, Oofos sandals absorb 37% more impact than other foams used in similar footwear. The thick foam outsole has a slight rocker motion to it, taking pressure off the forefoot through the stride. One of our Facebook community members said this about her Oofos:
"I have Hallux Limitus and these flip flops are fantastic. They have the bouncy house feel with a high enough arch that it takes pressure off your toes."
We're thrilled to see so many new colors and patterns from camo to animal print to metallics. Find Oofos flip-flops, slides, and clogs in whole sizes 5-11 (or men's sizes up to 14) for $49.95-69.95 from Oofos, and Zappos.
If you absolutely must wear a doctor-prescribed orthotic, consider the Revere brand of orthotic-friendly footwear, including sandals! The Rio style features a removable footbed and added depth to accommodate an orthotic or brace. Two adjustable straps provide a customized fit–and the wide width comes with two strap extenders. Zappos customer says this about her Revere Rio sandals:
I love that I can use my orthotics with this sandal. I need lots of arch support and, while the arch support may be just fine for some, I needed to add orthotics. The insole is designed to be lifted so that orthotics can be inserted below. Great design! They stay in place and are not visible except for the very back edge which is no problem for me.
Find the Revere Rio sandal in whole sizes 5-12, medium and wide widths for $139.95 from Zappos.
Honorable Mention: Birkenstock Arizona (conform to feet, don't overly flex, adjustable straps), Birkenstock Gizeh (same support as Arizona, no strap over big toe, more feminine), Waldlaufer sandals with removable footbed (available from Sole Provisions), Josef Siebel Tonga (thick contoured cork footbed with moderate arch support, adjustable straps). See our recent review of Jambu's new collection of orthotic-friendly, rocker sole sandals.
We've reviewed hundreds of comfortable sandals on BarkingDogShoes.com. Hopefully these new selections expand your horizon a bit more!