Comfortable Sandals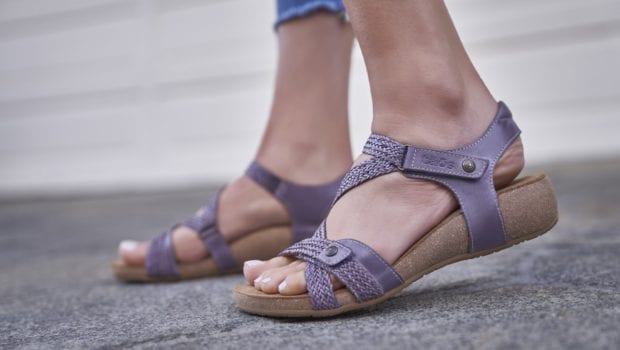 Published on April 6th, 2021 | by Kirsten Borrink
6
Taos Trulie Sandal Review: A Truly Comfortable Sandal
This review of the Taos Trulie sandal is sponsored by Taos Footwear. The opinions are completely my own based on experience.
 Since becoming aware of the Taos Trulie a few months ago, I can't go a day without seeing this wonder sandal on someone's feet at the grocery store, Starbucks, doctor's office or library. It's everywhere out here in the western suburbs of Chicago. And there's good reason for that.
The Taos Trulie meets and exceeds summer sandal requirements for many kinds of feet. Plantar fasciitis? No problem. The Trulie features a 1 3/4″ heel which provides just a little lift which can work wonders for relieving PF pain. The enhanced arch support isn't as aggressive as Vionic, yet feels good under my fairly high arches. The polyurethane-cork footbed is shock-absorbing and lightweight, plus it's topped with premium padding which feels great to sensitive soles. Bunions? I find that the straps cross above and below the bunion area, so there's no irritation.
After reading through scores of online reviews, I'd recommend the Taos Trulie sandal for those with back pain, and for wide or narrow feet. The adjustable forefoot and ankle straps allow for a customized fit.
After wearing my Trulies out in the sun today, I noticed a familiar design on my feet. Have you heard of a Chaco tan? That's almost exactly the pattern you'll find across your feet if you spend time in the sun in your Trulies. So think of the style as a dress casual Chaco sandal!
I ordered a euro size 41 for my size 10 (sometimes 9.5) medium width feet and the fit is perfect. You can find the Taos Trulie in sizes 36-43 (5-12)  medium and wide widths from TaosFootwear.com.
The Taos Trulie is also available from Zappos, Amazon and The Walking Company.
I asked my Facebook audience for feedback on the  Trulie. Melissa responded with this detailed review:
Wore mine today and raved about them at least once. Excellent arch support (I have a neurological issue so left arch is crazy high) and super adjustable. I can loosen/tighten as needed over toes, over foot, and around ankle. It is one long braided strap so you just pull or loosen, then the pieces over toes and around back of ankle Velcro. I have even strapped my hard orthotics into them. Expensive but so versatile (wore with skirt today at work, then jeans.) and worth every penny. I also have awful, tight hammer toes on left foot and a bunionette/overlapping pinky/2nd toe on right. Doesn't bother them!
See our comfortable sandals category for even more recommendations and reviews!