Shoes for Plantar Fasciitis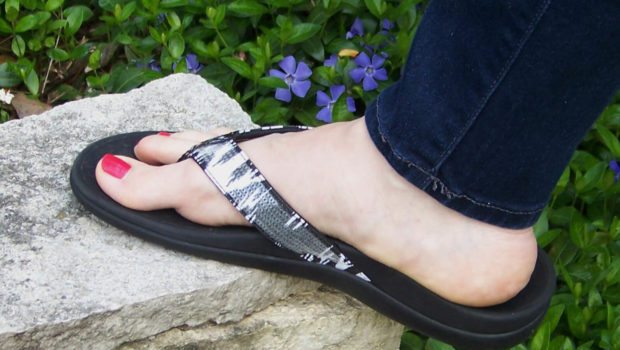 Published on April 6th, 2022 | by Kirsten Borrink
9
Vionic Tide Review: Stylish Flip-Flop with Arch Support
Anne G. reviews the Vionic Tide sandal
I am a very active woman in her early 50's. I can often spend 6-8 hour a day on my feet—not for my job but just doing life! I also like to bike, swim and mostly jog (slowly!) for exercise. I use custom orthotics in my running shoes to prevent flare-ups of plantar fasciitis. My arches are fairly flat, and I know I SHOULD pay more attention to purchasing and wearing comfortable, well-constructed shoes. But I typically just grab something cute and inexpensive from Target or Kohl's. That worked when I was in my 30's, but lately I have definitely been feeling more foot pain and general soreness when I wear those kind of shoes. I need to take better care of my feet!
I jumped at the chance to try the Vionic Tide sandals. They fit very true to size and honestly were comfortable right out of the box. Typically, I will get blisters from my first pair of flip-flops of the spring/summer. Not so with the Vionic Tide sandals! I literally wore them almost all day for three days—running errands, cooking, cleaning etc., and my feet were fine. They were comfortable and left my feet feeling great at the end of each day. I love the design—it looks a little dressier to me, even for a flip-flop. I did get them dusty digging dandelions, but I just washed them off—good as new. The only question left for me is what other colors do I want?
I would agree with Anne, this is one fantastic flip-flop. I've recently developed plantar fasciitis in my left heel and love how the Vionic Tide cushions my heel while providing excellent arch support. A word on sizing: the Vionic Tide  is available in whole sizes only 5-12. I would recommend ordering down if you are between sizes. Available from Vionic,  Zappos, Amazon, and Nordstrom.