Shoes for Plantar Fasciitis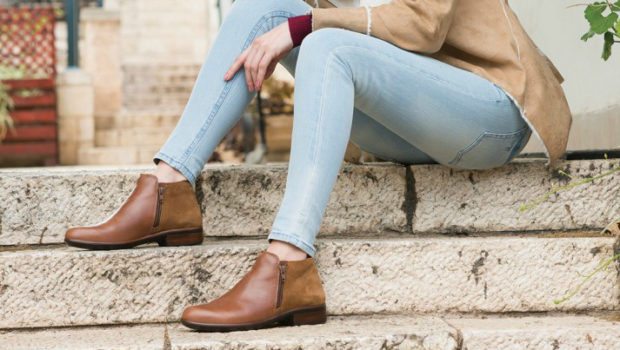 Best Shoes for Plantar Fasciitis [6 Stylish Options]
Every few months, we scour online reviews searching for the best shoes for plantar fasciitis–always keeping fashion in mind.  As we can't road test all the shoes, we look for footwear with multiple positive reviews from online customers with plantar fasciitis. Most feature good arch support and cushioning, shock-absorbing outsoles, deeper heel cups and 2″ and under heels. We'll mention whether the shoe has a removable insole to accommodate an orthotic. We enjoy sharing our findings with you and are always open to recommendations!
Best ankle boot for plantar fasciitis: Naot Helm
The minimalist Helm ankle boot (one of our favorite Naot styles) wins over women with problem feet. A removable anatomic cork and latex footbed and lightweight metal shank provide the support and stability that aching heels need. The Helm is part of Naot's Aura collection of medium width footwear, yet the toe box is generous and forgiving of bunions. We love Christine's review for Zappos:
These are unicorn shoes: comfort brand and finally a chic style that isn't decidedly old-lady comfort granola. I am a devoted Naot lover with size 9.5-10 Wide feet with high high arches and plantar fasciitis, and the size 41 fit perfectly and is a snug, secure fit across the top of my foot.
Find the Naot Helm in euro sizes 35-42 (4-11) for $199.95 from Zappos, The Walking Company and Nordstrom.  Honorable mention: Clarks Sillian Frey.
Best casual-dress wedge: Dansko Loralie
Sometimes Dansko just hits the nail on the head. The new Loralie mary jane is the trifecta of support, cushioning and good fit–and we're huge fans of a hidden wedge (offers just the right amount of heel lift). While the memory foam footbed with arch support may be all you need, it is removable should you need to use your own orthotic. Available in euro sizes 36-42 for $149.95 from Zappos, Nordstrom, and The Walking Company; $139-149 at Amazon.  Honorable mention: JBU Alicante and SoftWalk Wish.
Best casual-dress oxford: Aetrex Erin
Do you have the double whammy of plantar fasciitis with bunions? Consider the Aetrex Erin with its wide toe box, and removable  Lynco® orthotic insole. We recommend an oxford for plantar fasciitis as it provides a more secure fit at the ankle and heel.
An anonymous Zappos reviewer recommends the Erin:
I have very severe plantar fasciitis and it is very difficult for me to get a comfortable shoes. These shoes are not only comfortable to stay all day but also looks very professional.
Find the Aetrex Erin in euro sizes 35-42 (5-11) for $139.95 at Zappos, Amazon, and Nordstrom.
Best waterproof sneaker: Dansko Paisley
Are you planning a vacation to a wet climate where you'll be walking miles every day? Don't look like a tourist in day-glo running sneakers! Opt for the Dansko Paisley, a waterproof walking sneaker with a removable triple-density footbed with arch support and shock-absorbing, slip-resistant Vibram® rubber outsole.
Amazon customer Julie reviews her Paisleys:
I've tried about everything know to mankind to alleviate my Achilles tendonitis and plantar fasciitis including about ten different inserts, 3D mapped inserts, compression wraps, chiropractic, PT, and medication. Nothing was helping, so I decided to buy these shoes in a last-ditch effort to avoid having laser surgery. They are an absolute miracle!! I can walk without limping, my feet aren't screaming all day, my heels are no longer on fire, and I can stand for long periods of time without the excruciating pain I used to have. While I still have some slight pain in my heel, it's tolerable now.
The Dansko Paisley is available in euro sizes 36-42 for $144.95 from Zappos and The Walking Company, $99-145 from Amazon.
Best flat: Aetrex Kylie
We understand that some days you just want a sleek slip-on to bring an outfit together. So if you must wear a flat, make it one with built-in orthotic support. The new Aetrex Kylie features a contoured memory foam footbed with arch support. While you probably won't wear these on long walks, they offer more support and cushioning than most flats. Find the Kylie in euro sizes 35-42 for $89.95 from Zappos, Nordstrom and Amazon. Find the rose-color and leopard print at Aetrex.com. Honorable mention: Vionic flats.
Best sandal: Dansko Lolita
We hope you hear it here first– the Dansko Lolita is back after eight years! Yes, they've reintroduced their popular Golden Gate collection and we couldn't be more thrilled. The strappy Lolita sandal features a sturdy yet shock-absorbing outsole with mild rocker forefoot and contoured EVA footbed. This combination of comfort features work well not only for plantar fasciitis, but hallux rigidus too. Find the Dansko Lolita in euro sizes 36-42 for $129.95 from Zappos and Shoes.com. Be sure to check out the Dansko Lynnie, another sandal from the Golden Gate collection with an adjustable forefoot strap. Honorable mention: Comfortiva Faye (dress sandal) and Ecco Sport Yucatan (hiking sandal) and SAS Pampa (extended sizes and widths).
Budget-friendly tip: If you can't afford a new pair of shoes for plantar fasciitis currently, try a pair of ProFoot heel cups–simply put them in your favorite pair of shoes for extra heel support (they carry the seal of acceptance from the American Podiatric Medical Association).
Didn't see anything you like? Browse our whole category of best shoes for plantar fasciitis. Also, join our "Shoes for Plantar Fasciitis" Facebook discussion for even more ideas!