Best Shoes for Bunions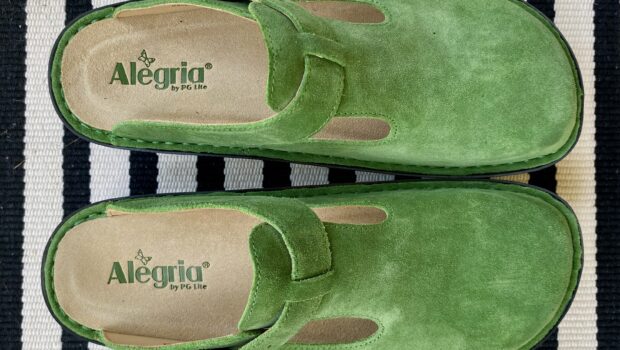 Published on May 17th, 2023 | by Kirsten Borrink
14
Awesome Alegria Shoes: Happy Footwear for Unhappy Feet
The year was 2008. Amidst a sea of stuffy comfort shoe offerings, Alegria shoes injected much-needed vitality with their flagship Classic clog. Bright patents, whimsical patterns and bold animal prints caught the eye of women from all walks of life, but what converted them into customers? If you own a pair of Alegria shoes, you know. From medical professionals to educators, city commuters to those in the service industry, all will tell you a similar story: Alegria shoes allow them to do the jobs they love without the fatigue of aching feet.
Watch this short video to learn more about the superbly supportive footbed and other key comfort technologies of Alegria shoes. We think you'll see why Alegria ("happiness" in Spanish) is a fitting name for the brand.

If you suffer from chronic conditions such as plantar fasciitis, rheumatoid arthritis, hallux rigidus or back pain, Alegria shoes feature ergonomic cork and a latex footbed combined with a rocker sole that may bring the relief you've long desired. And not to worry, many styles feature a removable footbed to allow for use of a custom orthotic.
If the classic clog isn't your style, take a look at four more bestsellers from Alegria.
The fisherman-inspired Alegria Summer is a breezy closed-toe wedge that can be dressed up or down. A wide toe box accommodates bunions while a contoured footbed to support the arches. Find the Alegria Celeste in euro sizes 35-42 (5-11.5) for $129.95 from Zappos and Nordstrom.
We're happy to see Alegria shoes finally issue a recovery sandal! Waterproof with excellent arch support, the Ode flip flop features a mild rocker sole to propel the foot through the stride. Fits a narrow to medium width foot best. Find the Alegria Ode in sizes 5.5-11.5 for $59.95 from Zappos and Nordstrom.
The Alegria Carina thong sandal is a perfect choice for on-the-go women who don't want to fuss with laces. A mild rocker outsole is less "chunky" than the Alegria Classic outsole, yet still glides through the stride taking pressure off heel and forefoot. Snug up the adjustable instep strap for narrower feet; let it out a little for wider widths. Zappos customer Susan raves about her Carinas, "They have great arch support, mine are high. My heel spurs love this shoe, and so does my lower back! Have already ordered 3 different styles since I bought this sandal. If you have feet problems, or lower back problems, you'll love Alegrias." Find the flirty Carina at Zappos, Amazon, and Walking Co.
Do you work in an industry where you need an easy-to-clean shoe with a slip-resistant outsole? The Keli Pro has all that and more including Alegria Shoes "Perfect Fit" cork, latex  and memory foam footbed that's removable and replaceable. Good news! The Keli comes in wide widths. Available from Zappos, Amazon and Nordstrom.
The sporty Henna sandal joins the Alegria shoes family for 2021, and we love it! Made from vegan leather, the Henna features three adjustable straps, a contoured footbed with arch support and a lightweight outsole (not a rocker sole). A happy Zappos customer remarks, "Extremely comfortable and go with every outfit! Great for wide feet, very adjustable!" Find the Alegria Henna in euro sizes 35-42 (5-11.5) for $79.95 from Amazon, Zappos and Shoemall.
Do you have a favorite style from Alegria? We'd love to hear from you and so would other readers. Feel free to leave a comment and let us know how they help any foot issues that you have.