Athletic Shoes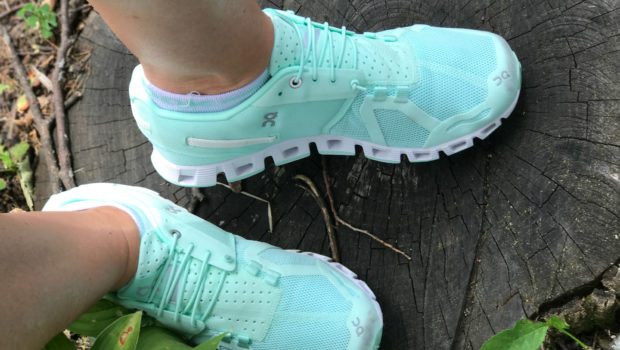 Published on March 9th, 2023 | by Kirsten Borrink
19
On Cloud Shoes Review: Light as a Feather with Sturdy Support
Disclaimer: I am not a runner. I wear running shoes to workout because they cushion my joints better than other types of fitness shoes (I do an interval-type workout of elliptical, rower and weights). If you're looking for reviews of this shoe from actual runners, check out On-Running.com. But if you have compromised joints, yet still enjoy working out, read on. And if you decide to try a pair, I hope you love them as much as I do.
I first learned of the Swiss running company, On, while perusing new arrivals at Zappos. The On Cloud shoe in a light minty green monochrome color-way grabbed my attention and I couldn't look away! They stood out among the gawdy shoes in day-glo orange with purple logos splashed across the sides: all one color, streamlined design, and what were those quirky square pod things on the sole? I had to click through to find out more about On Cloud shoes.
The 16 pods on the sole aren't  just there to pique curiosity from onlookers–they really do serve an important purpose. Upon foot strike (whether you're running, walking, or doing jump squats), the "cloud pods" (rubber elements on sole) compress to cushion the impact on feet, knees and back. The cloud pods then lock firm to provide a solid foundation for a natural toe-off.
A few more observations as I wear my new On Cloud shoes for walking, working out and running errands (the only kind of running I do):
Toe room: I have a pair of Altras with the foot-shape toe box and while I do love the roominess, they have a clunky look to them and are difficult to get into the foot bindings of the rowing machine and stationary bike. The On Clouds are forgiving of bunions and hammertoes without the extra bulk of a super-wide toe box, plus I can strap into the rower and bike quickly and not miss a beat!
Arch support: Being that the On Cloud is designed to promote a barefoot feel, one would expect little to no arch support. I'm pleasantly surprised, however, as my arches feel moderately supported. I attribute this more to the center four cloud pods than the insole. I also suspect that the individual pods provide customized support and cushioning as opposed to one thick outsole. The insole is removable, so you can insert your favorite orthotic insoles. Or you may want to try the On Cloudflyer stability shoe which is designed to align over-pronating feet.
Flexibility: Obviously this shoe is flexible at the forefoot or it wouldn't be considered a barefoot/minimalist-type running shoe. However, this feature may aggravate toes with hallux limitus or rigidus. I'd stick with a thicker-sole shoe like Hoka or Altra if you suffer from this condition.
Breathability: Do your feet overheat easily? The On Cloud features lightweight mesh upper at the forefoot which allows air to circulate into and out of the shoe. Plus you'll never wear a more lightweight fitness shoe! My husband picked one up and tossed it into the air exclaiming, "They're light as a feather!" True, yet don't think lightweight means flimsy. This shoe has support in all the right places.
Seams: I once had a fitness shoe with a design logo that used a stiff piece of synthetic right across the bunion area. Ouch!  The On Cloud has no irritating seams, grommets, or stitching. If you are diabetic and suffer from peripheral neuropathy, you'll love the seamless feel of On Cloud shoes.
Wondering which ON shoes are best for you? Check out their shoe finder–or find an On retailer near you.