Athletic Shoes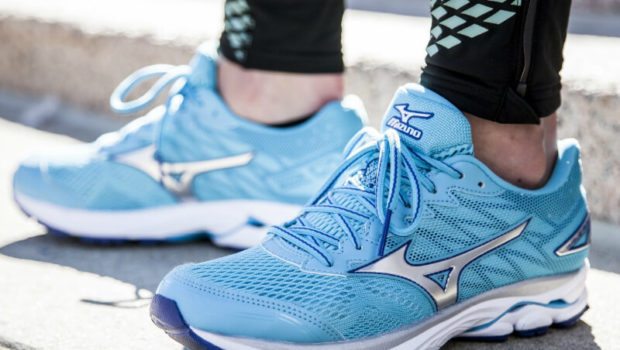 Best Workout Shoes for Problem Feet? See Our Top 6 Picks
Do you have a chronic condition that limits your ability to workout at the intensity you'd like? Or perhaps you're an avid runner experiencing your first brush with osteoarthritis or the discomfort that goes along bothersome bunions and aching arches. As you know, the search for the right pair of workout shoes for your foot condition can leave you with a Texas-sized headache. We're here to help you narrow down the many options so you can enjoy a more active lifestyle in comfort.
Shopping online for workout shoes has its benefits (especially with free returns), but visiting a local running store may be your best bet (see this list of the top 50 running stores in the US). Most offer a free gait analysis and shoe fitting (and don't worry, you don't need to be a runner–walkers are welcome). Learn from the experts whether you over-pronate or supinate and which shoe provides the correct level of cushioning and arch support (here's an informative article on pronation).
If online shopping for workout shoes is easier for you, we've rounded up six from different fitness categories with high marks for comfort and support. We hope you find a shoe that lets you achieve your fitness goals for the new year.
Best Walking Shoes
The Saucony Progrid Integrity ST 2 is a wonderful shoe for neutral walkers (neither over-pronating or supinating). A wide and high toe box comforts bunions, hammertoes and toes affected by Morton's neuroma. Reading through reviews, we're happy to report that both podiatrists and physical therapists recommend the Integrity ST 2 for its excellent stability, support and fit. A removable footbed allows for the use of an orthotic. Find the Saucony Progrid Integrity ST 2 in sizes 5-12, four widths for $72.00 from Zappos, $75 from Saucony.com, $39-75 at Amazon.
Although the Brooks Adrenaline GTS 18 is billed as a running shoe, it doubles as a fantastic motion control walking shoe for over-pronators thanks to the Progressive Diagonal Rollbar®–a tri-density midsole designed to promote progressive pronation control (read more here). The Brooks Adrenaline GTS 18 comes in nine colors from basics to brights; whole and half sizes 5-12, 13 and four widths for $120 from Zappos, $88-120 at Amazon, $119.95 from Holabirdsports.com.
Finally, an orthopedic walking sneaker with a youthful vibe (especially in black). The Orthofeet Coral features extra depth and width in the toe box for swollen joints, while providing a secure fit at the heel. A contoured orthotic insole offers excellent arch support (and it's removable to accommodate an orthotic). The Orthofeet Coral is a wise choice for sensitive feet due to peripheral neuropathy or rheumatoid arthritis. Available in whole and half sizes 5-12, three widths for $119.95 from Orthofeet.com and Amazon.
Honorable Mention: Ryka walking shoes (women-specific fit, good cushioning, moderate arch support); Easy Spirit Punter (wide toe box, multiple widths, removable insole for orthotic).
Best Running Shoes
Whether you're a serious runner or just starting a couch to 5k training program, we think you'll hit your stride in the On Cloudflyer. It's an amazing combination of stability with a lightweight ride (plus we love the streamlined, futuristic aesthetic). The outsole may look gimmicky, but the "cloud" pods provide support and cushioning (instead of multiple layers of foam or a posted heel). Watch this video to find out how the pods function through the stride:

I own the On Cloud shoe and wear them for fast walks on the treadmill at Orange Theory Fitness. In the last few months, I've noticed more and more women wearing On shoes, so I asked a lady what she liked about her new On Cloudflyers. She's returning to running after knee surgery and loves how the Cloudflyer provides shock-absorption and the right amount of support for her slight over-pronating ankles. She mentioned that the lateral support of the Cloudflyer is better than the Cloud making it a good choice for the floor work portion at Orange Theory.
The On Cloudflyer is recommended for the moderate overpronator and is available in whole and half sizes 5-11 for $159.95 from Onrunning.com, Zappos. Find a deal at Amazon.
Do you have extra-high arches? Chances are you supinate when you walk and run (under-pronate). The motion of pronation (rolling in of the foot during the stride) is how a normal foot absorbs shock. High arches are rigid and don't allow the foot to roll inward therefore placing too much weight on the outer edge of the foot. Overtime, the runner (or walker) experiences tight Achilles tendon, knee pain and tight hips (this article explains supination well).
A well-cushioned and flexible running shoe will make up for the lack of shock-absorption due to high, rigid arches. We recommend the Mizuno Wave Rider 20. Mizuno's signature technology, the Wave plate (left photo) runs through the midsole of their Wave series with the purpose of absorbing shock and dispersing it through the length of the plate. This is good news for supinators as the shoe is doing the job their rigid arches can't. The Mizuno Wave Rider 20 is available in whole and half sizes 6-12, three widths for $90 at Mizuno.com, $89.95 from Zappos.
If you absolutely can't bear the thought of cramped toes in your workout shoes, let us introduce you to Altra shoes (read our review of the Provision model). Their trademarked FootShape™ toe box is a fast friend to feet with bunions, hammertoes, arthritic forefoot, or toes that crave space. We personally like how our toes don't go numb on the elliptical machine in our Altras!
Altra's Zero Drop™ platform places the heel and forefoot at the same distance from the ground which naturally aligns feet, back and body posture. The lower heel position may feel strange at first–take it easy on the first few runs, jogs or walks to give feet time to adjust.
Altra's gender-specific design means an even more comfortable fit from heel to toe. While we're not exactly sure how a female-specific outsole is different than a male outsole (we can imagine), it's sure nice that Altra is looking out for us! Find Altra footwear in a selection of styles with light, moderate or max cushioning at Altrarunning.com, Zappos, and Amazon.
We recently asked our Facebook community for recommendations for best workout shoes. See their favorites and chime in with yours–just click through the embedded frame below to like our page and join in the conversation.