Best Shoes for Bunions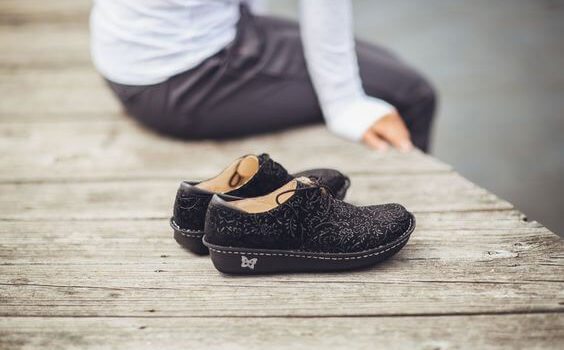 Alegria Shoes | The Bree Oxford and Essence Sneaker Marked Down
This post is sponsored by Alegria Shoe Shop. The opinions are completely my own based on experience. Reviewed by Heidi C. 
I have been on a quest for a comfortable yet fashionable shoe that will accommodate all my foot issues. After being on my feet for over 20 years in retail cosmetics standing on marble floors, my feet have many needs. I want to look professional, but not frumpy and I have sacrificed being in pain all day just to look stylish.
I appealed to Barking Dog Shoes for a recommendation and they suggested Alegria shoes; the Bree oxford to be exact. I needed something that came in a wide width, wasn't too flat to cause more heel pain, offered ankle support, didn't pinch my toes and allowed for long periods of standing without fatigue. The style needed to accommodate bunions and provide arch support. I am also a fashionista and do not want to look like a dowdy matron. I have sacrificed comfort for fashion so often and I have suffered in pain all day long.
The oxford style Bree is stylish to wear with slacks or a skirt. I chose a size 41. It has natural arch support and the lace ups can be loosened allowing my feet to spread out more if I need to. There is room in the toe box so there is no pinching and I feel very secure without a wobbly ankle. There is a slip resistant out sole which gives the safety on the sales floor.
The Black Sprigs pattern is chic so it doesn't look too industrial. I have worn these shoes several times now without any aching or cramping. The insole supports long periods of standing without tiring. I also don't feel the impact on the heel that I do in other shoes. I own the Alegria Belle Mary Jane as well, but it is a little tighter and is patent leather so won't stretch. I love Alegria shoes for conforming to my foot and not my foot having to conform to it. This is the brand that I will go to for relief and consistent performance.
Thank you, Heidi! More praise for the Alegria Bree oxford comes from a Barking Dog Shoes reader who left a comment recently saying,
"If you can find the Alegria Bree lace-up style in your size on line – grab it. For me it is more comfortable than a sneaker, people literally stop me in the street to ask me where I found that shoe (I say – oh my orthopedic nursing shoe!?) but it looks to me that Alegria has discontinued it — there are still some in various sizes and colors on the internet."
The Alegria Bree is a close-out style and you can pick up a pair for $69 at Alegria Shoe Shop with free shipping. They even offer a wide-fit option! If you can't find your size in the Alegria Bree, try Zappos, FootwearEtc.com, Shoebuy, Amazon, eBay.
A new lace-up has joined the Alegria family with a sportier edge. The Alegria Essence is pulling down the 5-star reviews at Zappos with the ability to accommodate orthotics despite its lower profile design. Find an Essence style on sale at Alegria Shoe Shop, Amazon, OnlineShoes.com, 6pm.com, Nordstrom.
What's your favorite pair of Alegria shoes?