Comfortable Sandals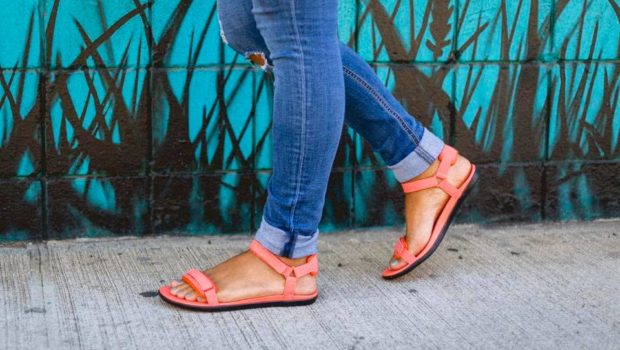 8 Supportive Sandals with a Backstrap in Time for Summer
As long as I can remember, I've had hammertoes…yea. I even recall my mom inquiring about surgery to flatten out my bumpy toes when I was a teenager. This was years before my RA diagnosis and although I never went through with the surger, I wondered what would become of my weird toes as I aged. Well, guess what. I still got 'em and surgery is imminent. But in the meantime, I know one thing that's making them worse: slip-on sandals and flip-flops. Dr. McCarthy, a top podiatrist in Phoenix and author of Podiatry Shoe Review was right–sandals with back straps are a must if you suffer from hammertoes or bunions. The rearfoot control that a back strap discourages toe-gripping to keep the sandal on (this motion speeds up the progression of hammertoes…and bunions).
While I'd love to tool around one more summer in my favorite Birkenstock Arizonas, it's due time to invest in a sandal with a back strap so I'm not worsening the hammertoes (they've crossed the line between mild nuisance to somewhat painful condition). Can you relate? Let's take a look at 10 comfortable sandals with back straps to promote good rearfoot control and keep us from scrunching up our already hammered toes!
Merrell Around Town Backstrap Sandal: "Roomy, but not sloppy." "Perfect right out of the box." This is the gist of most customer comments regarding the Merrell Around Town Backstrap sandal. With moderate arch support, an adjustable ankle strap and a cork-covered EVA sole, this comfortable sandal will keep your feet secure and supported as you're out and about. Whole sizes 5-11 at Merrell.com, Zappos. Find a deal at Amazon and 6pm.com. Find a Merrell retailer near you.
Clarks Arla Jacory: If cushioning is what your soles crave, the Arla Jacory from Clarks Cloudsteppers line is for you. Clarks special Cushion Soft™ insoles provide layers of shock-absorbing foam atop a rubber composite outsole. Not only is the Arla Jacory a great walking sandal, it's affordable too. Available in whole and half sizes 5-10, 11, 12, medium and wide widths at ClarksUsa.com, Zappos, and Amazon.
Aetrex Jillian Quarter Strap: Approved by the American Podiatric Medical Association AND many online customers! The Aetrex Jillian features a built-in Lynco® orthotic support with a memory foam footbed and enhanced arch support. Two adjustable straps allow for a customized fit. Available in whole and half sizes 5-10 from Zappos. Nordstrom carries up to size 11. Find an Aetrex retailer near you.
Born Cape Town Sandals: We're happy to see this sandal from Born because it reminds me of the popular Bastille style from last spring. Both the Bastille and Cape Town feature a thick platform which helps alleviate discomfort from hallux limitus (painful big toe due to arthritis or injury). The Cape Town's cushioned footbed and rubber outsole add to this cute sandal's overall comfort. Available in whole sizes 6-10 from BornShoes.com, and Zappos.
Olukai Luana: Is it a fashion sandal or a sport sandal? That's what we love about Olukai–the ability to create a chic, minimalist sandal that can be worn with a skirt one day and hiking shorts the next. The Luana features water-resistant adjustable straps, moderate arch support, and a textured outsole for good traction. Available in whole sizes 5-11 (order down if between sizes) from Zappos, The Walking Company, and Amazon. Find an Olukai retailer near you.
Earth Bay Sandals: A gladiator sandal with a boho twist, the Earth Bay encloses the heel completely. There's a bit of elastic goring where the ankle straps attach to the back panel to provide a little give. A contoured footbed with multidensity cushioning makes for easy walking. A crowd favorite at Zappos! Available in whole and half sizes 5-10, 11, 12 at Zappos, Nordstrom, The Walking Company, and Amazon. Find an Earth Brands retailer near you.
Eric Michael Millie: Prefer a little heel? The Eric Michael Millie features a 1.5″ wedge heel with a 3/4″ platform. The suede-covered cork footbed molds to the foot for good support. Customers love the soft leather straps and pretty spring colors. Tends to run narrow. Available in sizes 35-42 (5-11) from Zappos and Amazon.
SAS Pampa sandal:  Every Zappos customer that left a review for the sandal awarded it five stars for comfort–every single one so far!  A contoured footbed with soft suede lining conforms to the natural arch and curves of the foot. Extra cushioning at the ball-of-foot and heel comes as a welcome relief for those suffering with plantar fasciitis or metatarsalgia (forefoot pain). Available in whole and half sizes 5-12 (including hard-to-find 10.5 and 11.5), medium and wide widths at Zappos. Find a SAS retailer near you.
Stay tuned for our review of the Alegria Playa sandal, another fantastic sandal with a back strap for a secure fit.
Still looking for that perfect summer sandal? Take a look at our recent sandal articles: