Best Shoes for Bunions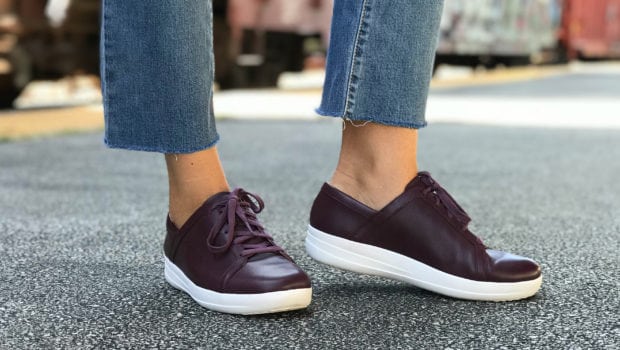 Published on February 2nd, 2023 | by Kirsten Borrink
11
Fabulous Fitflop Sneakers: F-Sporty II Lace-Up Review
Fitflop sneakers, F-Sporty II,  provided by Fitflop. The opinions are completely our own based on experience.
Confession. I've long recommended Fitflop sneakers and closed-toe shoes based on hearsay. Yes, I have their sandals and they're great. But until this week, I've never had my own pair of Fitflop closed-toe anything. For diehard Fitflop fans, go ahead and pull up a chair, you'll want to read this review of the Fitflop F-Sporty II sneaker (update: see the Fitflop Rally sneaker for a similar fit and feel to the F-Sporty II).
I remember reading reviews of Fitflop's first closed-toe shoes when they hit the market quite a few years ago. Women loved the feel of the footbed, but found the fit to be off–too wide, too large, or slipped off the heel. Each season, Fitflop countered with updated styles with more streamlined silhouettes. Folks, they're converging on that perfect fusion of fit, feel and fashion with the release of the F-Sporty II sneaker (and this sneaker has friends from the same F-Sporty line).
First, let's consider the overall fit of these sassy Fitflop sneakers. I usually wear a size 10 medium width shoe (sometimes a 9.5).  I find the F-Sporty II sneakers to fit my feet perfectly–in fact, there's room to wear a thicker sock in the wintertime. I have bunions and hammertoes due to RA and neither is a problem thanks to the wide and high toe box of the F-Sporty II. The heel fits snugly with no slippage. And I'm not sure how they do it, but my feet don't look like clunkers–I'm pretty sure I could pass for a 9?!
I'd recommend these Fitflop sneakers for medium to wide feet, and for feet that crave extra room in the toe box for conditions like bunions and hammertoes. Unfortunately half sizes only run through 8.5. After that you have 9, 10 and 11. If you're in between sizes, I'd recommend sizing down since the fit is roomy.
How about the feel? Well, it's quite nice and let me try to describe it the best I can. The F-Sporty line features Fitflop's Anatomicush footbed which is a clever mish-mash of "anatomically-contoured with firm cushioning." The arch support is moderate. I have medium-high arches and would prefer a little more support. It's there, don't get me wrong, but on a scale of 1-10 (1 = Keds and 10 = Vionic), I'd give these Fitflop sneakers a 5). However, the footbed could be removed with a little tug (it's glued down, but not with superglue), and due to the roominess, you could probably add a more supportive insole.
I love the toe to heel cushioning. It's not too squishy, not too firm. Goldilocks would approve. Some comfort shoes add a bunch of pillowy cushioning to the insole with not much underneath in the midsole.This combo may feel great at the beginning, but after a few mile walk, the dogs start barking from fatigue. The midsole on the F-Sporty II offers firm cushioning. Add a thick shock-absorbing outsole and you've got three layers of goodness between your feet and the street. In fact, my feet appreciate the thick sole, as it prevents the shoe from flexing too much at the forefoot (which is a huge benefit if you suffer from hallux limitus).
Little extras enhance the comfort of these Fitflop sneakers. A padded tongue keeps the instep area happy, all leather lining and footbed inhibits odor and a low-profile silhouette prevents shoe from rubbing ankle area.
I'm happy to recommend the Fitflop F-Sporty II sneaker for medium and wide widths, bunions and/or hammertoes and hallux limitus (may be too flexible for those with severe hallux rigidus). Those with plantar fasciitis may find relief in this sneaker due to the firm cushioning, but may need more arch support.
Find the Fitflop F-Sporty II in 6 colors, sizes 5-11 for $110 with free shipping and returns from Fitflop.com. Check out the Fitflop Rally sneaker–a similar style and fit. Find a variety of Fitflop sneakers available from Zappos and Amazon.

See my video review of these Fitflop sneakers!
Check out the Fitflop F-Sporty Uberknit sneaker with ankle support and a soft, forgiving fabric upper. If sneakers aren't your thing, check out Fitflop's workwear collection.