Orthotic-Friendly Shoes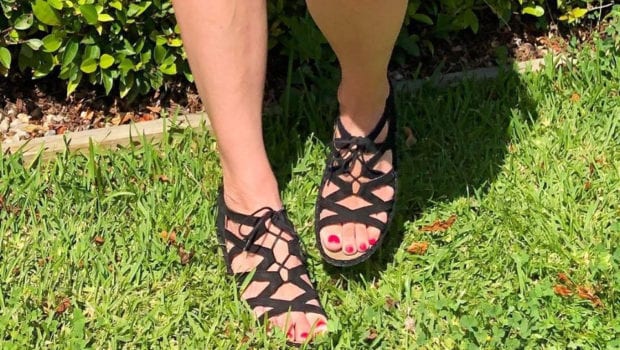 Stylish Orthotic Sandals for Women – Summer Spirit, Extra Comfort!
You've tried the new built-in orthotic sandals such as Vionic and Abeo, but the support isn't customized enough for your feet and your doctor insists that you wear your custom orthotics. You've experienced enough frustration trying to fit them in your shoes, let alone sandals, and summer is coming. No, you don't have to wear your tennis shoes all summer long, open-air options do exist! However, just because a sandal description states that it is "orthotic-friendly," doesn't necessarily mean it'll be friendly to each and every orthotic it meets. You may find that you have to trim your orthotics to get a good fit. See this video for tips on how to do so.
Orthotic Sandals – Our Top 8 Picks
The Naot Papaki features a removable cork-latex footbed and an enclosed heel which helps to conceal and secure an
orthotic insert. The Papaki comes from Naot's Koru collection of casual shoes and sandals with removable footbeds to accommodate orthotics that best fit medium width feet.
A satisfied Zappos customer wrote a helpful review about the Papaki:
I not only wear a difficult to fit size (10.5 AA or AAA), but I have sensitive areas, namely, my outer right arch on my right foot and my tendency to pronate. This she controlled the pronation due to a very good arch plus a slightly negative heel. I put an orthotic in it and it did not slip. Be aware, however, that an insert in the heel will lift your foot so that there may be some slippage. it was still more comfortable than no orthotic. Without the orthotic, there was too much pressure on my toes due to a softer footbed than some of their other sandals. Beautiful, well-made shoe.
The Naot Papaki is available for $175 from Zappos and Nordstrom, $152-175 at Amazon.
The boho-chic Naot Yarrow doesn't look orthopedic in the least, yet offers a removable cork/latex footbed and enclosed heel to fit an orthotic. The ghillie lace system provides a customized fit for slightly narrow to wide feet. Zappos customer Lauren says this about the Yarrow sandal:
I thought I would never be able to wear sandals again with my fallen arches and top of foot pain, and I can't even walk barefoot anymore without extreme pain. This one is great! My orthotic fits perfectly, is invisible, and the shoe is still so comfortable. Highly recommend!
Find the Naot Yarrow in euro sizes 35-42 (5-11) for $120-169 from Zappos, Amazon and Nordstrom.
Finn Comfort orthotic sandals are pricey–there's no two ways about it! But if they accommodate your orthotics well and allow you to walk pain free, they might just be worth the investment. The Finn Sausalito features a removable cork/latex footbed (in fact, the enhanced arch and metatarsal support may allow you to wear them without orthotics). The rocker sole takes pressure off the forefoot and heel through the stride. A happy Zappos customer says this about her Finns Sausalitos:
If you wear custom orthotics, this is your sandal. I have very thick orthotics and the shoe straps still accommodate without the velcro showing. (If you wear thick orthotics, you know how great that is!) I bought my first pair 6 months ago and wore them every day, so I have tried them out fully. My verdict? I just bought 3 more pairs. This is my new favorite shoe. It is easily the most comfortable shoe I have worn due to the sole. It is very stable, and wonderful on my knees when I am standing all day. The only problem I have had is it occasionally rubbed my pinkie toe, but that went away after a month or so. Even then, it was never enough to warrant a bandaid or anything. I feel very stable, and I don't trip or drag. I never wore a rocker sole before but had no trouble adjusting to these without any breaking in period. And best of all, they are pretty. I have the espresso metal, which sounds strange but goes with almost any color outfit.
The Finn Comfort Sausalito is available in euro sizes 35-43 (5-12.5), for $255-285 from Zappos, and Amazon. If you don't care for the feel of rocker-soled shoes, try the Finn Comfort Gomera–it accommodates an orthotic, but has a flat outsole. Read our review of the Finn brand and see the Gomera style here.
Romika is another German brand that specializes in stylish comfort footwear. The Ibiza 70 feature three-point adjustability (forefoot, instep and ankle) for a customized fit for narrow to slightly wide feet and a removable footbed should accommodate an orthotic. We like this honest review by a recent Zappos customer.
These are very attractive sandals that span the dressy/casual gap quite well.  I have a difficult time finding shoes that accommodate my custom orthotics well and these do better than most. They are only slightly narrow for my wide orthotics at the arch but overall they work fine. The quality seems very good.
Find the Romika Ibiza 70 sandal in euro sizes 36-42 (5-11) for $95-120 from Zappos, Amazon, and Peltz Shoes.
These funky orthotic sandals by Wolky have been around as long as I've been writing about comfortable shoes here at Barking Dog Shoes. We respect a company that keeps their bestsellers around year after year. The Wolky Jewel services many foot maladies from bunions (adjustable forefoot strap), hallux rigidus (thick outsole), plantar fasciitis (great support, deep heel cup). And for those that need to wear custom orthotics, the footbed is removable! Read how this Zappos customer made them work for her:
I bought these shoes to wear with my custom orthotics (I remove the Wolky insole). I consider them the best shoes for my feet when I am wearing the custom orthotics in them-even better than any lace-up shoe. Maybe it is the thick somewhat flat sole that makes them work so well? The shoe store where I bought the orthotics makes adjustments so that the orthotic better fits in the shoe. 
Find the Wolky Jewel in euro sizes 36-44 (5-12.5) for $179 from Zappos, Amazon (many colors), WolkyShoeShop.com, and Peltz Shoes.
The Wolky Globe sandal is a new style by Wolky featuring a trendy white sole.