Comfortable Sneakers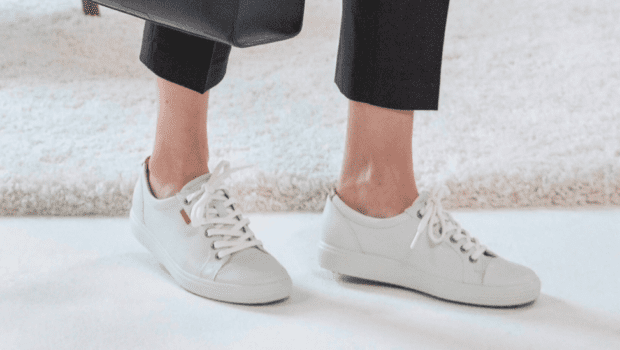 Published on January 14th, 2023 | by Kirsten Borrink
3
Ecco Sneakers: Soft 7 Lace-Up Review
My Ecco sneakers have become the first pair of shoes I reach for when packing for any trip, be it a weekend getaway to visit a friend, or an extended European vacation. Why? Let's start with versatility.
I'm a committed light packer, and nothing takes up more space and weight in a suitcase than multiple pairs of bulky shoes. So any style that works equally well with shorts and a t-shirt, dressier pants, a trim skirt and blouse or a breezy dress is a slam dunk. Ecco sneakers are it.
Comfort is another key consideration. You've probably seen women teetering through an airport in pointy pumps or boots with 4-inch heels. But for me – unless there's a wedding or gala involved – no shoe makes the packing list that isn't 100 percent comfortable. Ecco sneakers shine in this department.
They have the best arch support of any non-workout sneaker I've worn. The leather upper is soft and forgiving and good underfoot cushioning means all-day walkability with no aching legs. The lace-up styling provides welcome adjustability for wider or narrower feet, or for feet that tend to swell on airplanes or during warm weather. A partial leather lining adds breathability, and the removable insole features the Ecco Comfort Fibre System, which helps keep the shoes fresh and dry.
At first I found it hard to believe all these comfort features could be found in such a sleek, stylish shoe, but the proof is in the wearing. My Ecco sneakers have taken me to parks, museums, restaurants, shopping malls, botanic gardens, around cities on long days of sightseeing, on light hikes, around evening fire pits, and on trains, planes and automobiles everywhere in between. They really are the perfect travel shoe. Pack them with a comfy pair of flip flops for around the hotel or AirBNB (I love both my Vionic Beach Noosa and Teva Mush flip flops), consider adding one other pair of sleek, semi-dressy comfortable shoes (like these Allbirds flats) and you'll be good to go. Need more ankle coverage? Check out Joanne's review of the Ecco Soft 7 bootie.
Find the Ecco Soft 7 sneaker in 11 colors, euro sizes 35-43 (4.5-12) for $160 from Zappos, Nordstrom and Walking Co. Find a deal on the Soft 7 at Amazon.