Shoes for Problem Feet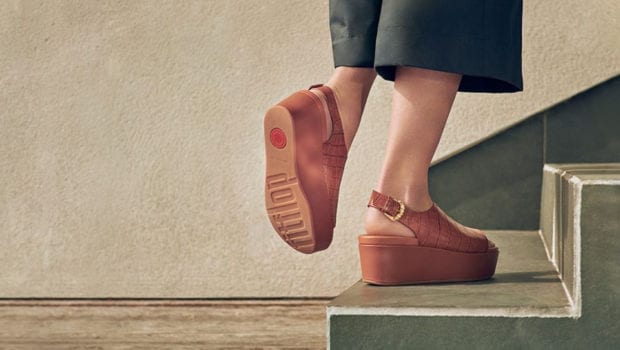 Published on July 28th, 2020 | by Kirsten Borrink
6
Why We Love FitFlop Shoes : Plus 9 of Our Favorite Styles
You may have seen it written Fit-Flops, Fitflops, or Fit Flops, but no matter how it's spelled, we're talking about the same brand. Despite a name that's easily misspelled and impossible to say five times fast, Fitflop shoes have become one of the top comfort brands for people who spend a lot of time on their feet, have foot, ankle, knee, or back issues, or just want shoes that look good and feel great all day long.
The Fit Flop Story
It began in 2007 with a unique style of flip flop sandals that incorporated trademarked insoles designed in consultation with biomechanists (scientists trained in how the body moves and how help people improve the way they move to avoid injury or maximize effort.) Hence the name Fitflop. Flash more than a decade forward, and the company still makes wonderfully comfortable flip flops, but its line has greatly expanded to include everything from flats to sneakers to ankle boots.
In addition to great styling, many Fitflop shoes have received the APMA (American Podiatric Medical Association) Seal of Acceptance, for footwear found to promote good foot health.
Our Favorite Popular Styles
We've rounded up some of our favorite current styles to give you a taste of the Fit Flops of today. Check out the Fitflop website to explore their complete line and for a fuller explanation of their different footbed technologies. Since it all started with a sandal, it seems fitting to begin with one here. The Fitflop Eloise is a contemporary wedge with classic style. The Eloise features Fitflop's super cushioned Microwobbleboard™ technology, which offers three levels of targeted cushioning at the toes, midfoot, and heel to reduce underfoot pressure, absorb shock, and provide maximum comfort. All this in a stylish, lightweight sandal that gets rave reviews for comfort and walkability, even from reviewers with a variety of foot and knee issues. We love the security of a back strap, but the Eloise sandal is also available in a beautiful ankle strap espadrille and a fashionable slide which is available in a wide selection of colors and materials.
The lower-profile Fitflop Barra sandal proves that classy simplicity can be stylish. This supple leather sandal features ultra-sleek, anatomically contoured DuocomFF™ midsoles with two independent lightweight midsole layers for enhanced cushioning. Online reviewers love the all-day comfort and versatility of this sandal. It's a great walking sandal that transitions beautifully to dressier occasions by pairing with a skirt or summer dress.
Prefer closed-toe flats over sandals? Consider Fitflop Allegro ballet flats. Awhile back we dedicated an entire review to these soft, supportive flats. If you love flats but have plantar fasciitis or other foot issues requiring good arch support, these shoes are for you. "These are the first pair of flats I've been able to wear in many years!!" says one reviewer. "Great support in such a little show!"
Fitflop sneakers have also gained wide popularity. One of our favorites is the Rally leather sneaker, with its clean, classic styling. We're seeing this wardrobe-essential sneaker style everywhere. Wear them with jeans, dresses or tailored suits for an up-to-the-minute look. This essential shoe is ultra-light and features flexible Anatomicush™ midsoles.
We'll allow online reviewers to say the rest: "These shoes are ridiculous! As in ridiculously COMFORTABLE! I have so many issues with my feet…bunion, flat feet, recovered from plantar fasciitis. I started wearing fit flop sandals about 5 years ago…they are all I wear now. Finally tried this tennis shoe – it's so light weight and I can walk PAIN FREE! So happy! Right out of the box I wore them 3 days in Disneyland. I walked about 10-11 miles every day and my feet felt wonderful." And: "This is the the most perfect white leather sneaker ever! I've searched for something like it for years and this is it. This shoe is so chic! People often ask who makes it and if it's from a more expensive brand. I love that this sneaker pairs with a cute summer dress, distressed/raw hem jeans, or dress pants for work…"
The FSporty Uberknit is another bestselling Fitflop sneaker style. These lightweight, supportive shoes feature a soft, breathable, stretchy knitted upper and full-flex Anatomicush™ midsoles. Once again, we'll let a few reviewers tell you about them: "This is one of the most comfortable slip on shoes I have ever bought." "I have plantar fasciitis and I've had surgery on both feet and these shoes are a lifesaver!" "Like putting little clouds on your feet. I LOVE these shoes!" "I have many foot problems and need a shoe with a wide toe box and good support with a sturdy sole. After trying I don't know how many pairs, these are the ones. And they are really cute!" "I have had two knee replacements and work out 3x weekly. These shoes are perfect for me, not heavy, adequate support, easy to put on. This is my second pair, very pleased  "Similar to Allbirds brand, but more comfortable with or without socks. Love them! I'm ordering another color."
Let's take a look at a couple more Fitflop sandals, starting with the Fitflop Remi, a refined take on chunky-soled sandal styles. These slides offer softly padded leather uppers and leather-lined footbeds. We love the stylish details of this sweet sandal, which features Fit-Flop's legendary supercushioned Microwobbleboard™ midsoles for amazing all-day comfort, even for folks with knee issues and back pain. The adjustable quick-stick fastening on both straps means a customizable fit for narrower or wider feet. If you prefer the security of a back strap, the Remi sandal is available in a back strap version. There's also a classic thong style reminiscent of original Fit Flops sandals.
We'd be remiss if we didn't include a beach-worthy flip flop in the mix. What sets Fitflop iQUSHION sandals apart from typical beach sandals is the ultra-light impact pillows of iQUSHIONTM cushioning, and an anatomically shaped footbed with built-in arch support for all-day comfort. Maybe you've learned the hard way that cheapie flip flops are a recipe for sore feet. That won't happen with these! They're perfect for the beach and beyond. iQUSHION sandals are available in the classic surfer flip flop style and in several other cute, sleek, styles all with the same great comfort features.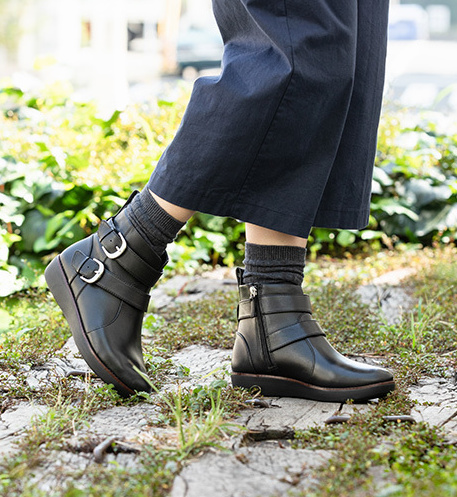 We'll wrap up with a couple of great Fitflop boots for cooler weather, beginning with the Laila ankle boot. Smooth leather, classy buckles, and a side zipper for easy on/off make these boots both pretty and practical. Ergonomic SupercomFF midsoles provide incredible all-day comfort. "I have never purchased a more comfortable pair of boots," says one reviewer. Other reviewers rave about the stylish design, which looks great with everything from jeans to a skirt. These will be the boots you end up wearing every day because they're so comfortable and versatile.
Fitflop Glace boots take a different style direction, and we love them. These ankle boots prove that fashion and comfort are NOT mutually exclusive. We love the mixed-material detailing (stretchy knit, faux-leather and suede) of these Nordic-inspired boots. While they have a chic designer look, they're also packed with practical features like grip-tested soles, an anatomically contoured footbed, and a lightweight, biomechanically engineered ErgocomFF™ midsole for all-day cushioning.
Believe it or not, we've only scratched the surface of all the Fitflop shoe, boot and sandal styles available! You'll find many, many styles of shoes for women and men on the Fitflop website. Hopefully – whether you know them as Fit-Flops, Fitflops, or Fit Flops – you'll give the brand a try and discover for yourself how cute and sublimely comfortable they are.