Comfortable Boots for women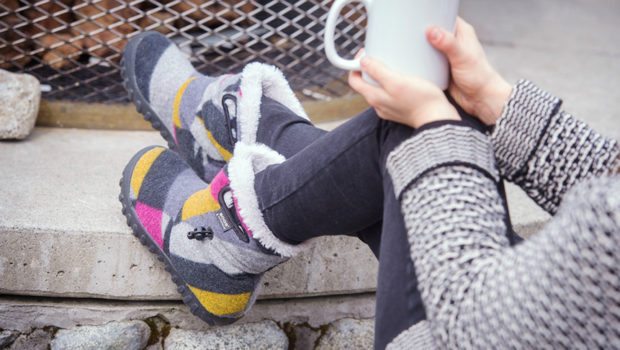 9 Sensational Snow Boots Surround Feet in Comfort and Warmth
Growing up in Indianapolis in the seventies, we didn't just get snow, we got blizzards–a few famous ones at that.  My best memories include waiting to hear our district mentioned in the long list of school cancellations, then heading out to sled all day, returning at dusk to mom's hot cocoa. The grand fun of the day overshadowed the snow boots fiasco…thankfully. Those ridiculous over-the-shoe rubber boots with impossible buckles only impeded my carefree spirit and did little to protect my feet from cold and near-frostbite. Snow boots have come a long way baby, and we're here to share our favorites. We've found nine stylish winter boots sure to keep your toes warm, dry and comfortable.
Water-resistant? Check. Arch support? Check. Room to wiggle toes? Check. Warm and cozy lining? Check. The Ecco Trace Tie Hydromax has it all. If you need more support, just remove the footbed and use your favorite insole or orthotic. The speed laces tighten in one quick pull of the toggle. We noted this comment from an Amazon reviewer, "I have had severe rheumatoid arthritis for several years that has severely damaged my feet, so I need a wide toe box and good support. I found these boots and love them." The Ecco Trace Tie runs slightly large and is available in euro sizes 36-42 for $118-250 at Amazon, $170 at Zappos, $168.95 at Shoes.com, and $168.95 at Nordstrom.
The word on the street (and online) is that the Helly Hansen Garibaldi is the "non-clunky" version of the popular Sorel Joan of Arctic (which we love, but agree it's on the heavy side). Norwegian-made Helly Hansen boots are known for their durability, quality workmanship, warmth and comfort. The Ortholite footbed cushions every step while the waterproof leather upper and faux fur lining keep feet toasty warm. The Garibaldi snow boot does run a tad small, we advise ordering up a half size. Find the Helly Hansen Garibaldi in sizes 5.5-10 for $169.95 at Nordstrom, $79.95-170 at Amazon, and $134.95 from Shoes.com.
What a relief to find a winter boot in extended sizes and widths! Have you heard of the Canadian brand Wanderlust by Toe Warmers? If you have wide or large feet, you'll want to check out all their styles, but we particularly love the Wanderlust Norway  for its classic style that doesn't scream, "Snow boots!" Customers rave about its warmth, comfort and fit. Available in sizes 6-12, three widths for $102.95 from Shoemall, $102.95 from Amazon, and $103.95 from Shoes.com.
Merrell's relationship with Vibram® rubber outsoles is a match made in heaven. This season Merrell incorporates Vibram's newest outsole called Arctic Grip™ for exceptional traction on wet ice. The Merrell Aurora 6 boot features Arctic Grip™ and a host of comfort features that the company does so well: lightweight nylon arch shank for support and stability, Merrell air cushion at the heel for shock-absorption, removable footbed, and 200 g of M Select™ WARM insulation–and of course, it's waterproof. Find the Merrell Aurora 6 for $150 at Merrell.com, $149.95 at Zappos, and $139.95 at Nordstrom. If you need exceptional traction on ice, check out Kirsten's review of Icebug boots.
Tired of the typical? Meet Santana Canada Mixx snow boots. With all the soft coziness of Ugg, and standout style of a fashion sneaker, the Santana Canada Mixx is sure to get noticed (especially in ruby red)! A plush faux-fur lining and waterproof membrane will keep your feet dry and warm. A removable footbed allows for orthotics. Available in sizes 6-11 (order up if between sizes) for $228.95 from Nordstrom, and $228.95 from Shoes.com.
We admire a budget-friendly winter boot that still exceeds standards for cold weather comfort. The Spring Step Vanish is as cute as it is warm, efficient and durable. If you loathe laces, the side zipper will get you out the door in no time. The waterproof nylon uppers and faux-fur lining allow you to stay and play in the snow. If you need more support, the footbed is removable to accommodate an insole. Runs big, so order down if between sizes. The Spring Step Vanish is available in sizes euro sizes 36-42 for $69.99 at Zappos. $36-69 at Amazon.
Not a fan of laces or zippers? How about a pull-on? The Bogs B-Moc boot features nifty side pull handles for easy entry, and that's just the beginning of what makes these snow boots extra special. They're 100% waterproof, comfort-rated to -22F, lined in soft faux-fur, and a nice wide toe box–and there's even a toggle should you need to snug it up at the ankle. Order down if between sizes. The Bogs B-Moc is available in whole sizes 6-11 for $79.90-120 from Bogsfootwear.com, $54-120 at Amazon, $100-120 at Zappos.
We think Bettina's hilarious but spot-on Zappos review of the Columbia Omni-Heat Heavenly sums it up well.
This is a fabulous boot: After years of buying crappy winter boots, I finally decided to invest in these. And folks, let me tell you. They. Are. Amazing! The reviews were right on the money, they're like wearing sneakers instead of clunky boots. I feel like I can run a marathon in them, which is incredible since I would never be able to run a marathon even in actual sneakerwear (what is exercise?). Despite being as warm as a kangaroo pouch, they even manage to be stylish. Is this wizardry? Take all my money! The only additional thing I have to add is that I had to order 3 different sizes until I found my size – and it's a full size bigger. You'll need to size up to wear thick winter socks. Tread with confidence, readers. This is legit.
The Columbia Omni-Heat Heavenly is built for stomping in the snow with its glove-like fit, 200 g insulation and Omni-Heat™ Reflective Thermal Warmth technology (utilizes a breathable material with little silver dots that reflect body heat). These super snow boots come in whole and half sizes 5-11 (be advised that they do run small) for $139.95 from Zappos, $140 from Columbia.com, $75-140 from Amazon. See the brown knit version of the Heavenly at Zappos.
It's warm, waterproof, cute and comes in widths up to 4E! The Propet Lumi Tall Lace is scoring high marks from online reviewers who appreciate it's roomy toe box that accommodates bunions. Available in sizes 6-11, four widths for $94.95 from Zappos, $60-95 from Amazon, and $84.95 from Shoes.com,
Do you have a favorite winter boot? Let us know in the comment section below!